May 21, 2023
Randolph celebrates the Class of 2023 during Commencement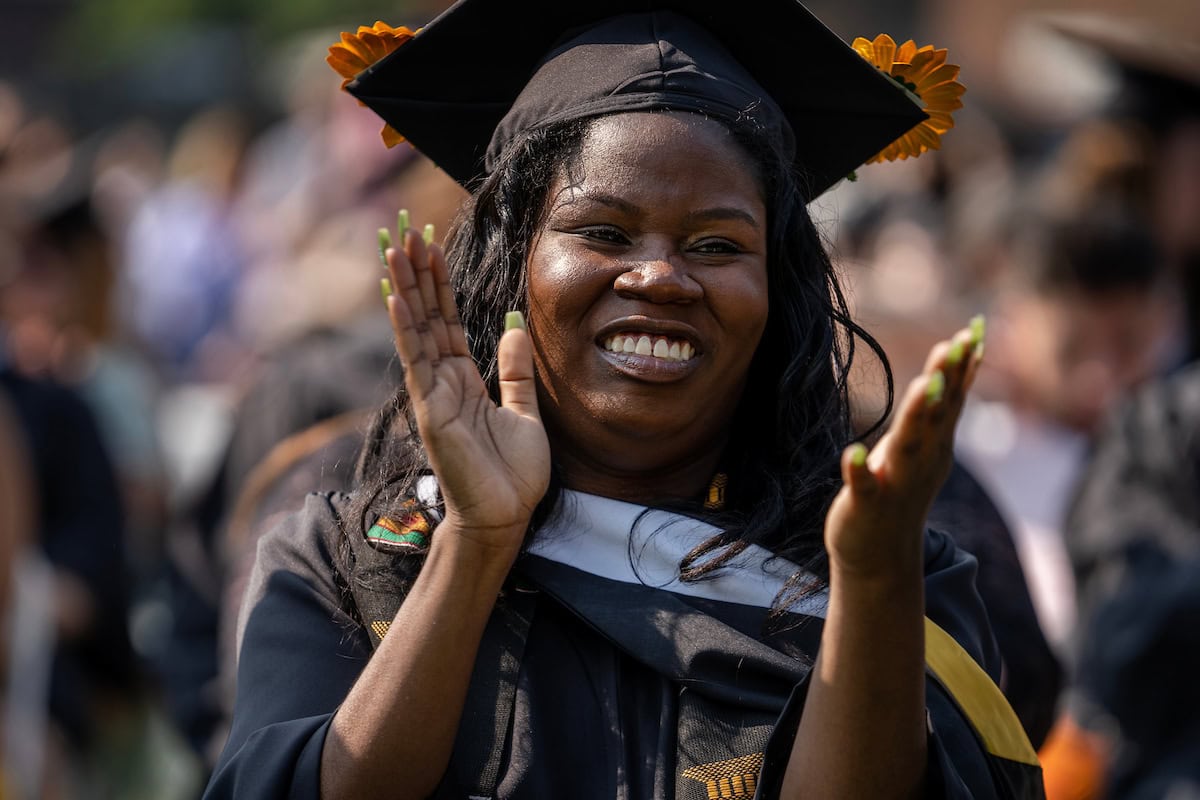 Amy Carrier touched on the pressures graduates will face as they prepare for their next steps during her Commencement address to the Class of 2023 on Sunday.
A liberal arts graduate herself, Carrier, now the CEO of Centra, put a lot of pressure on herself to find that perfect first job. She wanted to work in human resources, but struggled to find work.
"As you start out in your career, it may be easy to think that certain roles are more prestigious or more glamorous than others, but the reality is that every role is essential," said Carrier, who began her career in healthcare as a part-time medical records clerk.
"As I worked my way up the ladder, rung by rung, I realized that each person brings a unique set of skills and perspectives to the table, and it's the combination of those skills and perspectives that make a successful organization. None of us can be successful without the contributions of the many.
"I encourage you to find hope in the footsteps of others," she added, "as you forge your own individual path."
She advised students to be open, adaptable, and flexible while walking that path.
"You have practiced these skills over the last four years," she said. "You have shown that you are capable and resilient. Your academic success has provided you with a well-rounded education. You can go anywhere and do anything. As you leave this fine institution and embark on the next chapter of your lives, be courageous and trust that your time here has prepared you for this next step on your path, one step closer to realizing your dreams."
Nearly 115 students graduated Sunday, which included those who received the College's Master of Arts in Teaching and Master of Arts in Coaching and Sport Leadership degrees. Master of Fine Arts in Creative Writing graduates received their diplomas earlier in the year.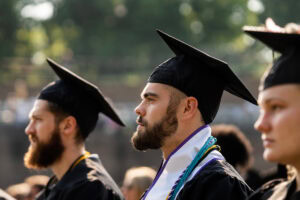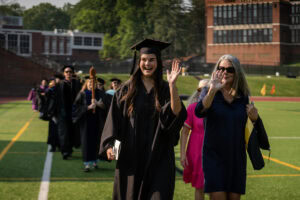 "We made it through these last few years together," Student Government President Zu Elkhansa '23 told her fellow graduates. "We have thrived and adapted to a new environment with so many challenges, and to be up here speaking to each and every one of you is an absolute honor."
Elkhansa thanked families, friends, faculty, and staff for their support along the way.
"My parents, they immigrated to this country with little, made a life for themselves, and here I am, their first daughter, graduating and giving a speech," she said.
"Be thankful for those around you each and every day," Elkhansa continued. "When life gets hard, remember that everything happens for a reason. Have patience, and create an environment for yourself that makes your peace untouchable."
The ceremony also included a land acknowledgement read by Chief Diversity Officer Keesha Burke Henderson and the announcement of the recipients of the prestigious Maude Huff Fife Award.
Named after a graduate of the Class of 1918, the award is given to the student (or students) whose quality point ratio is the highest in the senior class. This year, the award was given to Hanan Davis, a psychology major, and Tomi-Lauren McGinnis, a history major.
President Sue Ott Rowlands emphasized the value of a liberal arts education in developing leaders who make a difference in their communities.
"With all my heart, I believe your liberal arts education is your ticket to the future," Ott Rowlands said. "Randolph College has done its very best to help you learn how to think critically and creatively, how to communicate your ideas effectively, and how to navigate the world beyond the Red Brick Wall. That world is waiting for you, graduates, and you now have the tools to make it better."
In her closing remarks, Carrier reminded students to make their career a journey, not a destination.
"No one specific job has defined me, and it should not define you. Do not allow yourself to be constrained by what you know today, find every opportunity to continue to grow," she said. "Use every experience to deepen your understanding, to find what you love and what you don't. Experiment, evolve and always continue to learn. And I hope you will find what I have learned–that the most important work is the work that fills you with a sense of purpose and pride."
Tags:
Class of 2023, Commencement 2023