May 22, 2023
Honoring our past and creating our future: Randolph College celebrates inauguration of 11th president
After making her way across the brick-lined pathways of campus as part of the academic procession, Sue Ott Rowlands stood before an audience of supporters and well-wishers in Smith Hall Theatre.
Amid the joyful, uplifting atmosphere, it was almost impossible not to think about the rich history of the College.
"One of the things that strikes me every time I enter the Red Brick Wall is the rich history that permeates our entire campus," she told the crowd gathered on Saturday, April 15 to celebrate her inauguration. "Many days when I come to campus, I cannot help but wonder what these grounds must have been like when the College first opened in 1893."
There were no paved roads, she added. Horse-drawn carriages and a trolley traveled along the street that is now Rivermont Avenue. And it is said that in September of 1893, during the early days of the College's opening, the first president and founder, William Waugh Smith, helped carry the young women who arrived here across the muddy road and through the gates. The brick walkway that had been planned between the road and the College was not yet finished. A torrential rain fell as Randolph-Macon Woman's College opened its doors for its first session with 36 residential students and 12 professors.
"Dr. Smith was known as a man who believed failure was not an option," Ott Rowlands said. "And despite not having the money to finish Main Hall, despite pushback from those who said women were not suited for—or capable of—earning a college degree, despite an endless supply of challenges, he and the rest of our founders worked tirelessly to welcome these young women to what was an unheard-of prospect: a college committed to providing women the same educational opportunities that were available to men.
"Their hard work paid off," she added. "By 1905, a guidebook described the College as 'conscientiously and splendidly academic' and as providing 'added breadth of culture' to the women who came here to learn.
"Times have changed," Ott Rowlands said. "Higher education has changed. And our students have changed. And yet, in this small corner of the world, so much of what made this College special in its earliest years remains the same."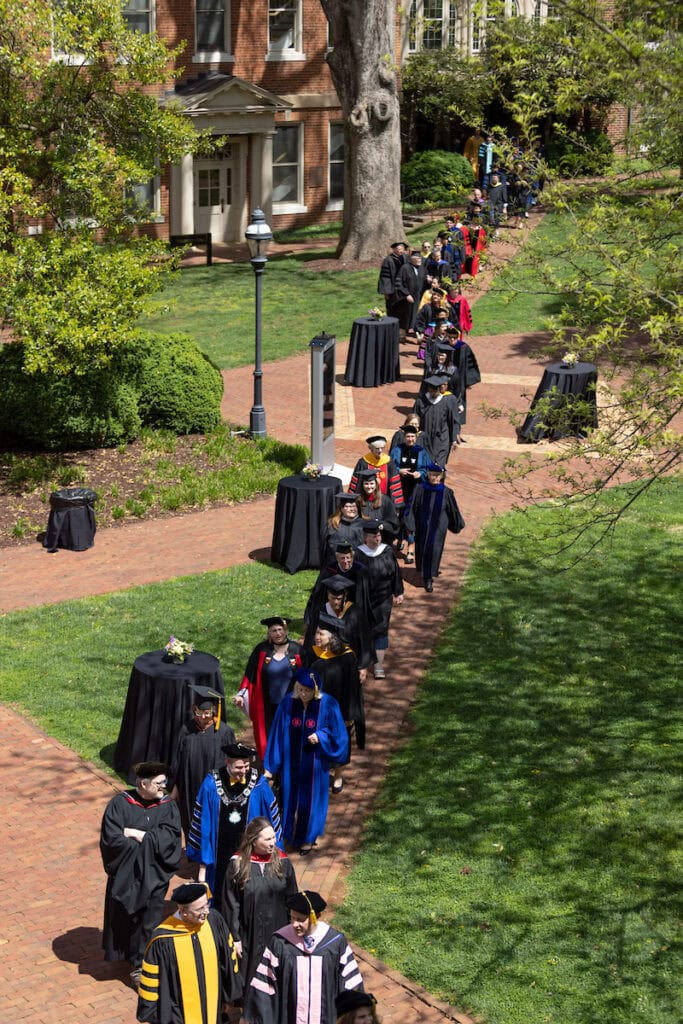 A NEW BEGINNING
The inauguration ceremony was the culmination of two days of events celebrating Ott Rowlands and Randolph College. Hundreds participated in the
festivities, including numerous trustees, former trustees, alumnae and alumni, students, faculty, staff, and other friends of the College. Inauguration
events included spotlights on teaching, creative activity, and community service. For Ott Rowlands, the event was a chance to reflect and honor the past while sharing a vision for the future.
She used her speech to share three core principles she called the Randolph Promise.
"Together, we will work toward academic excellence, career empowerment, and community engagement," she said. "My promise within that Randolph Promise is to honor our past—those rich traditions of Randolph-Macon Woman's College that have given us a pathway to who we are today. But the other part of my promise is to position Randolph College for a thriving future as we create teams of educator/leaders who work together
to support each and every one of our students."
Before coming to Randolph, Ott Rowlands served as provost and executive vice president for academic affairs at Northern Kentucky University, dean of the College of Liberal Arts and Human Sciences at Virginia Tech, and professor and chair of the Department of Theatre and Film at the University of Toledo in Ohio.
Those who knew her along that journey also spoke during Saturday's ceremony.
Katrina M. Powell, founding director of the Center for Refugee, Migrant, and Displacement Studies and a professor of rhetoric at Virginia Tech, recalled one of her first meetings with Ott Rowlands, which she said was emblematic of the kind of leader she is.
"Our women's and gender studies program had invited Sue to our social gathering, and she accepted the invitation. But, in what I came to learn was one of Sue's signature moves, she offered to host us," Powell remembered. "She made us dinner and upon walking into her art-filled house, I was immediately struck by not only the warmth of her home, but also the enthusiasm she had for us as faculty."
Ott Rowlands eventually appointed Powell director of women's and gender studies at Virginia Tech, and Powell spoke about their friendship over the years.
"I may think of her as my dean. I think our colleagues at NKU think of her as their provost. But now, she's your president," Powell said. "And believe me when I say that I'm envious of you all. "The best thing she'll do for you as individuals and for Randolph College as a whole is help you to figure out how you will do your best, beyond your wildest imaginings," she added. "That's a Randolph promise."
A LEADER WITH ENERGY
Judith Daar, dean of the Chase College of Law at Northern Kentucky University, where Ott Rowlands served as provost and executive vice president for academic affairs, touted her former colleague's "impressive career path and exemplary personal values" in her remarks.
"She has, and will, travel to the ends of the earth to provide opportunity for others, to support the hopes and dreams of those fortunate enough to be in her realm," Daar said. "She is a person of high energy, high integrity, high intellect, high emotional intelligence, and high honor.
"That you have chosen her for your new president speaks for itself, and speaks incredibly highly of your community," she added.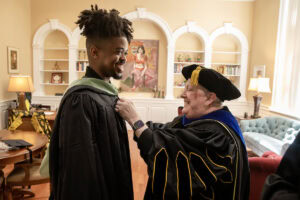 The bonds Ott Rowlands has developed on campus, and beyond, since her arrival in July were also highlighted during Saturday's ceremony. Faculty, staff, and student speakers shared stories about seeing her in the dining hall, cheering alongside her at athletic events, and sharing in College traditions.
"Sue's enthusiasm, warmth, and energy brighten the campus," said Sarah Sojka, chair of the College's Faculty Representative Committee and a professor of environmental studies and physics.
She also noted the deep affection Ott Rowlands has for the Randolph community, and vice versa.
"Sue demonstrates a belief in the work we do here at Randolph now," Sojka said, "and a sense of opportunity and excitement for the future."
A FUTURE WITH PROMISE
During the ceremony, Ott Rowlands received the Presidential Medallion and Chain of Office to cheers and several standing ovations from the crowd. The medallion is engraved with the College's seal, mission, and motto, along with the names of the institution's past presidents. Former presidents Virginia Hill Worden '69 and John E. Klein joined Ott Rowlands on stage for the event.
Born in Oklahoma, Ott Rowlands earned her undergraduate degree in education with a speech/theatre emphasis from Oklahoma Christian College and her terminal degree, an M.F.A. in acting and directing, from the University of Oklahoma. In addition to her extensive career in higher education, Ott Rowlands has acted and directed professionally in New York and Washington, D.C. and is a member of the Actors' Equity Association.
She is the founding artistic director of Glacity Theatre Collective in Toledo and the Cleveland Women's Theatre Project, both professional theatres.
Ott Rowlands is also, as she noted during her inauguration speech, the proud owner of a liberal arts education.
"What a gift it is to be doing this challenging work together right now—a time when, more than any other time in history, we see that the liberal arts are not a specific set of curricula or a specific set of sanctioned careers," she said. "The liberal arts at Randolph College are perhaps best exemplified in our alumnae and alumni, whose lives are full of meaningful relationships and meaningful work to build a better world," she added.
"Indeed, as we continue to grow, our direction will remain focused on educating creative, intelligent, and ethical leaders for classrooms, courtrooms, research labs, corporate offices, museums, theaters, and the world."
The College's future, she said, is filled with promise, and she pledged to work tirelessly alongside students, faculty, staff, and alumnae and alumni to ensure that Randolph College remains a welcoming, thriving environment that provides the very best educational foundation for its students.
She quoted former president, Theodore Henley Jack, who once said, "No college is ever completely (built), any more than an individual's education is ever finished."
"Just as the potential of our students seems limitless, so does the potential and future of this beloved institution," Ott Rowlands added. "I promise to work tirelessly towards these efforts, and I join you as your president with humility, curiosity, and a deep appreciation for my role in our promise to you."
Tags:
Vita 2023 Spring