March 16, 2023
Randolph students to perform during Spring Dance Concert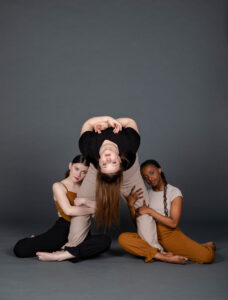 Randolph College's Spring Dance Concert will be a celebration of dance in all its forms. 
"It's really fun to see different styles of dance," said music and dance instructor Katie Munson, who put the program together. "I feel like this program does a good job of representing technical ability but also some things that really any student could look at and say, 'I think I could do that. Maybe dance isn't so scary.'"
The concert, scheduled for 7:30 p.m. Friday, April 7, will feature Mitchell Ngwenya '25, Stephanie Swithers '25, and Reese Cooper '25 in pieces choreographed by Munson, including a musical theatre number and a swing dance, and several guest artists. 
Modern dancer Susan Honer, a graduate of Hollins University, contributed a "funky" piece Munson said is all about joyful dancing, with a few popular dance moves hidden throughout, while Dennis Hartman, a dancer, singer, and actor, choreographed a tap solo for Cooper. 
Ryan Moody, owner of Seven Hills Dance Studio in Lynchburg, based her piece around chance choreography, a technique in which selected, isolated movements are assigned a particular sequence. 
"It's this idea that things happen repeatedly and in almost a cycle throughout," Munson explained. "The dancers are creating some unique shapes and positions, and that's really exciting." 
Ngwenya and Cooper have also choreographed their own pieces for the concert.
"It's been really exciting to watch them create these very distinctive, different ideas," Munson said. 
Tickets are $10 for general admission, $5 for students and seniors, and free for Randolph students and children under 12. Visit https://www.randolphcollege.edu/tickets for more information. 
Tags:
dance, department of performing arts