January 10, 2023
Yusef Salaam, a member of the Exonerated Five, to give MLK Celebration keynote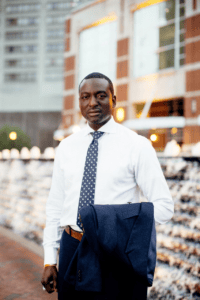 Author and activist Yusef Salaam will be the keynote speaker during Randolph College's annual celebration honoring Martin Luther King, Jr. at 5 p.m. on Monday, Jan. 23.
The event, which will be held in Smith Hall Theatre, is free and open to the public.
Salaam was a member of the Exonerated Five, a group of teenagers tried and wrongly convicted of rape in the 1989 Central Park jogger case—a conviction that was overturned in 2002.
The case is one the most high-profile examples of coerced confessions, and their story was profiled in award-winning films like Ken Burns's Central Park Five documentary and the Emmy Award-winning Netflix series When they See Us.
Salaam was just 15 when his ordeal began, and since his release, he has advocated for criminal justice reform, prison reform, and the abolition of juvenile solitary confinement and capital punishment. In 2016, he received a Lifetime Achievement Award from President Barack Obama.
"We are thrilled that Yusef Salaam will be giving the keynote during our annual Martin Luther King Jr. celebration this year," said Randolph President Sue Ott Rowlands. "He has done such important work advocating for criminal justice reform and educating the public about mass incarceration. His story is one that needs to be heard, and I know it will resonate with and inspire our students and members of the Lynchburg community."
Salaam is also a poet, inspirational speaker, and New York Times bestselling author. In 2021, he released his memoir, Better, Not Bitter, detailing his journey of finding hope in the face of injustice.
In addition to Salaam's speech, the Martin Luther King Jr. Celebration will feature spoken word from Danez Smith, a member of the College's Master of Fine Arts in creative writing program faculty.
Smith is the author of Homie (Graywolf Press, 2020) and Don't Call Us Dead (Graywolf Press, 2017), winner of the Forward Prize for Best Collection and a National Book Award Finalist.
"MLK Day is an opportunity for all of us to ask how we can use ourselves for the betterment of humanity," said Keesha Burke-Henderson, Randolph's chief diversity officer and director of the Office of Diversity, Identity, Culture, and Inclusion. "I believe Dr. Salaam represents the spirit of using one's life and experience."