November 28, 2022
Horse sense: RISE grant helps earn Brandon Harrison '23 therapeutic riding certification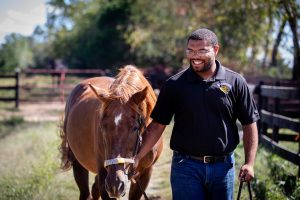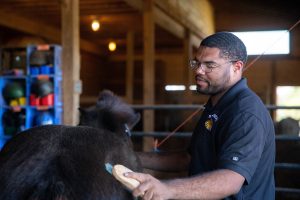 Brandon Harrison '23 believes we could all learn a thing or two from horses.
"They don't think ahead or dwell on the past. It's a gentle reminder to live in the moment," he said. "But they also know when something is truly not right."
Harrison, a biology major, has ridden since childhood and was always stirred by the bond that develops between horse and human.
"It's rewarding to sit in the pasture and observe them," he said.
Harrison has continued to explore that love while at Randolph. The Portsmouth native originally planned to be a veterinarian, but he changed course after taking an equine studies class with biology professor Amanda Rumore and Jo Ann Miller, who owns a horse farm in Bedford County.
His coursework included a therapeutic riding class at Miller's Brook Hill Farm. The nonprofit provides rehabilitation services and a safe haven for unwanted horses, along with community riding programs for veterans, seniors, and those with disabilities.
"Therapeutic riding offers many mental and physical benefits," said Harrison, who started interning at Brook Hill a year ago. "People who can't walk can ride a horse and exercise muscles that are otherwise not used on a day-to-day basis. Horses are also mirrors of our emotions. You can't have a bad day and expect your horse to have a good one."
At Brook Hill, Harrison is responsible for horse care, in addition to writing lesson plans and teaching children with disabilities how to ride.
"Brandon has a lot of experience in the able-bodied riding world. What I love most is that he does not look at the participant's disability any differently than any other student. He just finds a way for them to be successful," said Miller, the farm's owner. "He is also willing to be flexible and change his plans, based upon how the participant is doing, which is key in this field."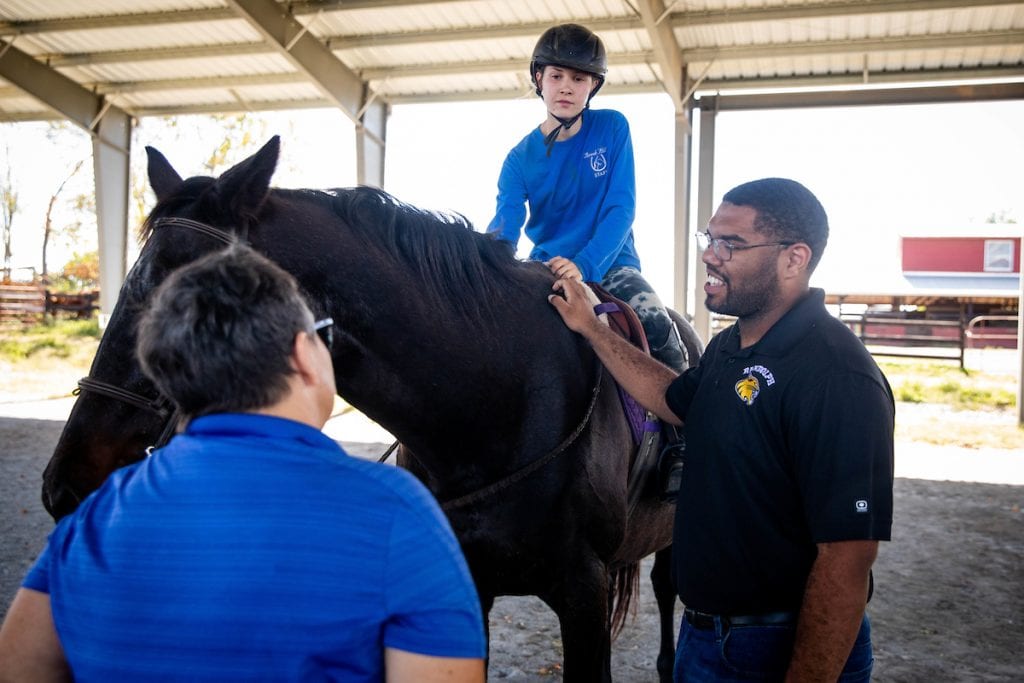 Most recently, Harrison used a Randolph Innovative Student Experience (RISE) grant to help fund his therapeutic riding certification.
The grant money will pay for the application, exam fees, and other costs involved in becoming fully certified through the Professional Association of Therapeutic Horsemanship International. Candidates must complete certain education requirements and pass both written and practical exams.
After graduation, he hopes to stay in the area to work as a riding instructor at Brook Hill.
"My experience at the farm has been amazing and allowed me to work with different types of horses and riders," he said. "I've gotten so much experience just from being an intern, and I am excited to see how that translates into the rest of my life."
Harrison credits his time behind the Red Brick Wall with helping him stay true to himself while stepping outside of his comfort zone.
"If it wasn't for Randolph, I don't believe I would have found a career path I enjoy and love," he said. "Being here has encouraged me in all aspects of my life and allowed me to explore opportunities I couldn't have gotten anywhere else."
This story appears in the Fall 2022 edition of Randolph College's magazine, Vita Abundantior. 
Tags:
RISE grant