November 29, 2022
Hailey Gilman '22 conducts research on NSF-funded vessel 
Not long after graduating from Randolph last spring, Hailey Gilman '22 found herself worlds away, navigating the marine environments of Palau, a small island nation south of Guam, on a diving trip with her father.
A lifelong sailor, Gilman met with active researchers there, which cemented her decision to pursue a career in oceanography.
She continued pursuing that dream this fall through STEMSEAS, a program that provides ship-based experiences for students aboard National Science Foundation-funded research vessels.
On these trips, students sail with experienced faculty and graduate students, engaging in geoscience and oceanography activities.
"If you're interested in marine science or oceanography, going on one of these trips shows you're able to be at sea," said Gilman, who majored in physics and minored in music and mathematics at Randolph.
Gilman was originally accepted to sail on a vessel traveling to Bermuda from the Woods Hole Oceanographic Institution (WHOI) in Massachusetts.
But Hurricane Fiona, which hit in early September, scuttled the trip.
"We were the first STEMSEAS cruise to get canceled with students ready to go and on the pier," said Gilman, who is working at Randolph this fall as program coordinator for the SUPER program and as the Science Festival assistant.
In October, Gilman was finally able to set sail, joining another STEMSEAS trip on the Hugh R. Sharp.
Originating from Lewes, Delaware, the Sharp and its crew traveled north to the Delaware Canal, south to the mouth of the Potomac River, and then circumnavigated the Chesapeake Bay.
Along the way, students and their mentors collected data for two different projects—one using shallow sediment samples to study hurricane history, and the other analyzing the concentration of microplastics in the Bay.
The vessel had a wet lab and a dry lab and utilized a variety of equipment to collect samples, from drills to a fine mesh net dragged behind the ship.
"Sediment can tell you a lot about the climate of the water," Gilman explained. "The sediment has thousands of little phytoplankton, or algae, fossils. Phytoplankton have incredibly fast life cycles, so they adapt very quickly to changes in their environment. By looking at their composition in the sediment samples, we can tell what the water acidity, temperature, water clarity, nutrient content, and salinity was when they were alive."
Gilman's next step is to apply for grad schools with an eye toward coastal or marine engineering. She'd also like to continue her efforts in science outreach and education.
"Like all of science," she said, "there's a place for everyone."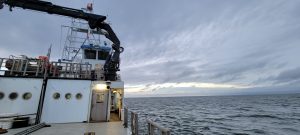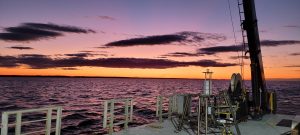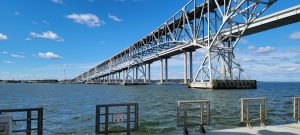 Tags:
marine science, Vita 2023 Spring