September 7, 2022
Randolph's National Votes for Women Trail marker dedicated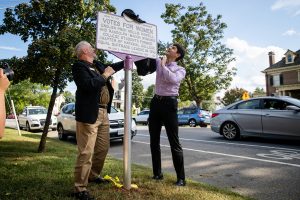 The College's legacy of political activism and student leadership was recognized Wednesday during a dedication ceremony for a National Votes for Women Trail marker.
Randolph is one of two sites in Virginia included on the trail, which seeks to tell the story of the long struggle for women's voting rights in America. The marker honors English professor Nellie Powell and the students who formed an Equal Suffrage League chapter at the College in 1913.
"I've spent the last few years trying to share the inspiring, but little-known story of women's fight for the vote," Nancy Tate, the trail's Virginia state coordinator, said in remarks before the marker was unveiled. "Women had virtually no legal rights during the first 200 years of this country, and it wasn't until 1848 that the right of women to vote was even taken seriously. And after that, it took 72 years of organized struggle to reach the goal."
Tate spoke of the 900 separate legislative campaigns that were waged, at both the state and federal levels, over those years—and how many failed.
"The suffragists had to dust themselves off," she said, "and start over again."
Among those engaged in the fight were Powell and Lucy Somerville Howorth, class of 1916, who were both recognized during Wednesday's ceremony.
The Equal Suffrage League chapter they founded at the College boasted 140 members by 1914 and sponsored talks by students and faculty, as well as local, state, and national suffrage leaders. Powell and Elizabeth Lewis, the president of the League's Lynchburg chapter, also hosted suffrage schools on campus, covering public speaking along with political, social, and legal topics.
Ted Delaney, director of the Lynchburg Museum System, highlighted the city's role as a center of activity for the movement in Virginia. Lynchburg was one of the most active in the state, second only to Richmond, despite its conservative culture.
He offered two reasons why: Lewis, who would eventually co-found the League of Women Voters, and Randolph-Macon Woman's College.
"The campus was home to the only other suffrage organization in the city of Lynchburg," he said. "In fact, the only photograph we have ever found of suffrage activity here in the city of Lynchburg was a photograph taken of eight students standing in front of Main Hall that was reproduced in the 1914 Helianthus yearbook. Those were students at this institution, 100 years ago."
Randolph President Sue Ott Rowlands and Jennifer Gauthier, professor of media and culture and co-president of the League of Women Voters of Lynchburg, also spoke during the event.
Tate used her time at the podium to commemorate the suffrage movement and emphasize the work still to be done, concluding with her thoughts on what can be learned from the fight.
"History matters. Knowing what came before broadens our understanding of who we are and what we can become," she said. "Every individual can make a difference, whether it be in their own community or in the larger world. Perseverance is important, for both individuals and social movements. Change can be slow, and it can be frustrating. Finally, the fight for equality is not over. It needs to be fought in every generation."
Tags:
history, Vita No. 13