May 17, 2022
Environmental studies class takes a unique look at solutions for reducing plastic waste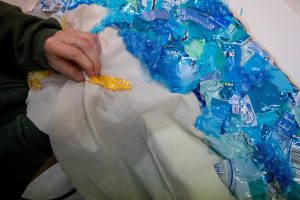 The various blues sparkle from the table at the center of the Environmental Sciences Lab as Ainsley Simmons '25 methodically stitches the items together on a piece of muslin.
Upon closer inspection, shades, textures, and even a few logos become apparent. Rice Krispies Treats. Jolly Ranchers. Different brands of drinking water.
Simmons' work was part of a class craftivism project in Karin Warren's Sustainability Principles and Practices course this spring. Each student created a large-scale mosaic using plastic waste that was symbolic of a species or habitat either affected by plastic pollution or something that offers a solution to the problem.
Craftivism, the act of using craft projects as a form of protest or to advance social causes, has become an increasingly popular way to reach people.
"It's just something we respond to," Warren said, noting that art and environmental science seem to be a natural pairing. "They're both about appreciating beauty."
Simmons chose a coral reef for her mosaic, allowing her to use a variety of blue plastic to create the ocean surrounding it. As the work sessions progressed, she became something of an expert in the different types—some of the water bottle labels were easier to work with, while plastic grocery bags tended to stick to her needle.
Her classmates focused on a range of animals, from an octopus to a puffin. Warren went a different route, choosing mycelium, a type of mushroom that can eat plastic products as its primary food source, helping to clean up plastic.
Many of the materials they used came from an earlier class project that required the same group of students to carry all of their solid waste and recyclables around in a trash bag for a week. The goal was to not only become more mindful of their own plastic usage but to talk about the project with their peers.
Olivia Richards '23 said it was awkward at first, but she saw it open a lot of people's eyes to the issue. Even her own.
"I was surprised by how much plastic I used, and I try to be sustainable," said Richards, a biology major.
After the week was up, students sorted and weighed what they collected and discussed strategies for reducing solid waste generation. Then they set out to create the mosaics, which will be displayed during the College's Symposium of Artists and Scholars in May.
"It's nice to be here, creating," Warren said. "It's also supposed to be contemplative and relaxing. It's overwhelming to think about the magnitude of the problem, but doing this, you can focus on solutions."
The project also inspired some of them to look at their own trash in new ways.
"I find myself wondering if there's a way I can use it in my project," Simmons, "so I don't have to throw it away."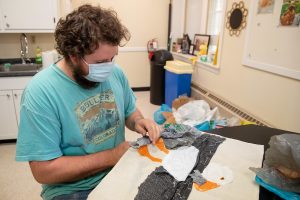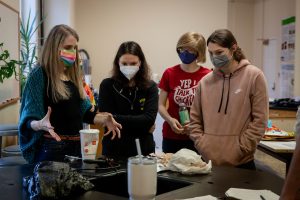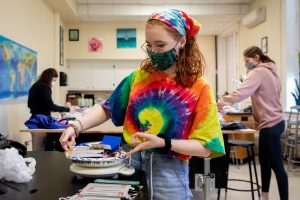 This story appears in the Spring 2022 edition of Randolph College's magazine, Vita Abundantior. 
Check out all of their mosaics here. 
Tags:
environmental science, environmental studies, Vita No. 12