July 13, 2021
'A unique privilege': Randolph student explores College's psychology collection
It's called a Wiggly Block, a set of smaller blocks of wood that, when pieced together, create a rectangular shape—and reveal information about those who are able to assemble it quickly.
One day in late June, Haley Mundy '22 attempted to put the puzzle box—part of Randolph College's collection of antique psychological instruments and tests—back together after bringing it into the lab.
It was no easy feat and, later that morning, Mundy talked about struggling assemble it.
"I couldn't even find how to put it together online anywhere," she said. "It speaks to how unique our collection is."
Mundy has been immersed in the collection this summer as part of an experiential internship, under the supervision of retired psychology professor Rick Barnes.
The work has also become the culmination of her studies at Randolph.
"It's definitely been eye-opening," said Mundy, a psychology major. "It's like taking pieces from all my classes and putting them together to sharpen my research and critical thinking skills. It's been a privilege."
There are about 100 tests in all, items once used by psychologists to measure things like intelligence, personality, developmental abilities, and mental disorders. Most date back to between the 1900s and 1940s, with several from the '50s and '60s.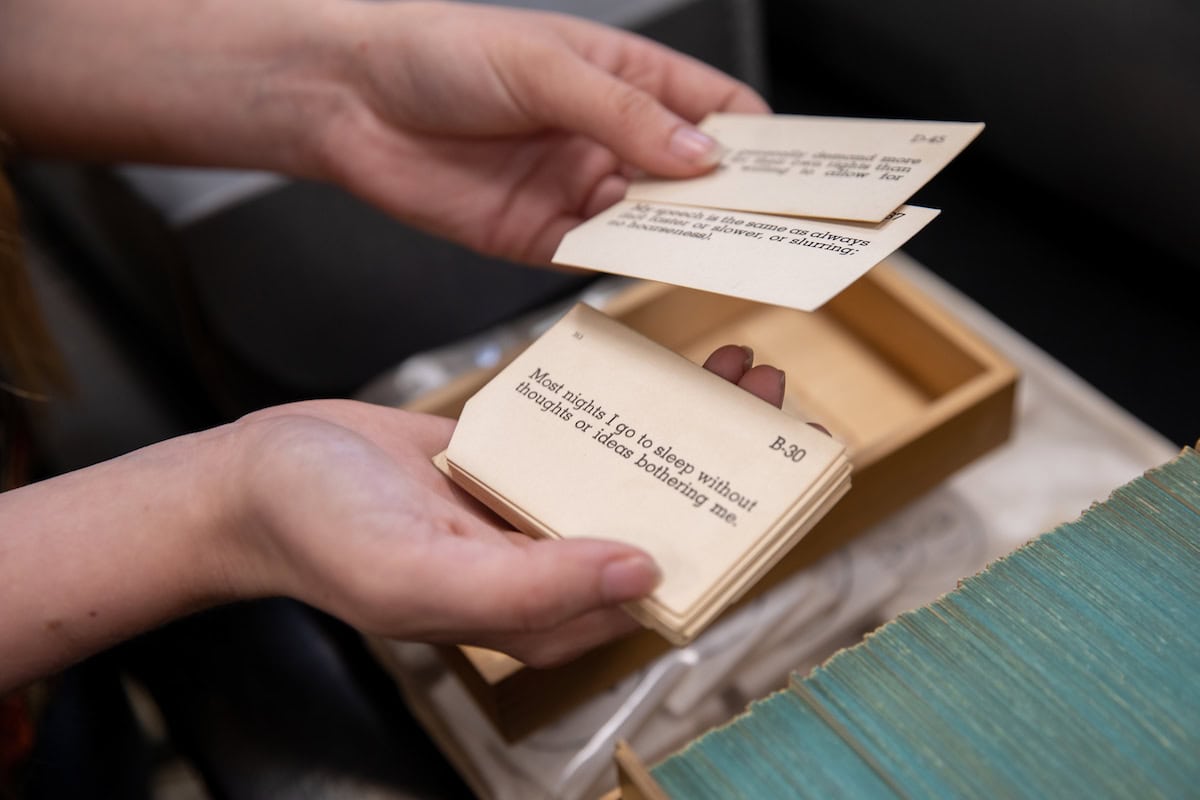 They range from the well-known Rorschach Inkblot Test to quirkier tests for things like musical talent and sense of humor. Mundy has been reading through the manuals for the tests and, occasionally, taking them herself.
"Apparently by 1943 standards," Mundy noted dryly, "I'm not very funny."
The creativity of each test is her favorite part, along with seeing how those who designed them found unique ways to quantify various concepts.
The Wiggly Block, for instance, was invented in 1928 by industrial engineer Johnson O'Connor to match people's abilities with job opportunities at General Electric Co. Those who could assemble the puzzle box quickly were well suited for mechanical engineering or architecture.
Another test in the collection—a box full of colorful knots of yarn—measured color sense. Its uses varied, from the examination of school children to testing the color perception of railway engineers.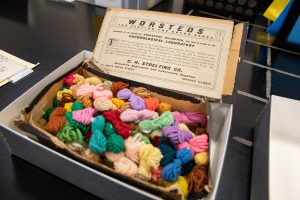 The collection itself dates back to 1893, when the College's psychology lab was established. It was one of the first 20 in the United States and the first in the southern United States. Celestia Parrish, who founded the lab, and other faculty members equipped it with a wide range of instruments for the study of human sensation and perception.
The equipment in the collection was catalogued by a student in 2006, while the tests were the subject of a summer research project in 2015.
Sarah Ballard-Abbott '17, the student who worked with Barnes in 2015, sorted through most of the tests and recorded them in both an Excel spreadsheet and online on eHive, a web-based system where researchers can catalogue, organize, and share their collections.
The Randolph College Psychology Collection
Mundy is continuing that work this summer, adding illustrations to each eHive listing. Most are scans of pages that best illustrate what the test was for, with some photographs of tests with 3-D elements.
"Haley has really done a great job on this," Barnes said. "She's worked independently and really dug into it."
Mundy has been particularly mindful of the cultural biases evident in some of the tests. Seeing how the tests have changed over time is a valuable part of the process, Barnes added.
While the online catalogue is accessible to anyone, Mundy would also like to organize the physical copies for future generations of students through something akin to a Dewey Decimal System.
"It's a unique privilege to have these primary sources," she said.
"I'm trying to experience everything in psychology I possibly can," Mundy added. "I also have always had a general interest in preserving history and the value of being a custodian of history."
Tags:
internships, psychology, Randolph College Psychology Collection, student internships