January 28, 2021
Read with Wanda WildCat this winter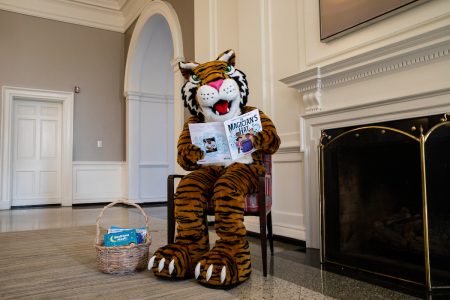 Want to read with the coolest 'Cat around this February?
Sign up today for Randolph's new Reading With Wanda series, a special story time featuring Wanda WildCat.
The 30-minute virtual sessions, held at 3:30 p.m. every Tuesday in February, will feature Wanda joining Randolph education professors, alums, and/or current students reading a book and introducing related activities families can do at home.
Participants will receive a themed bookmark for each session with activity sheets from Wanda following the reading.
The schedule is as follows:
Feb. 2: Malcolm Mitchell's The Magician's Hat, read by education department faculty members Cheryl Lindeman and Anne Chamberlin
Feb. 9: Lebron James's I Promise, read by Emilee Dunton '14 and Samie Maggard '14
Feb. 16: Laura Overdeck's Bedtime Math, read by current Randolph education students
Feb. 23: Geoff Waring's Oscar and the Bird – A Book About Electricity, read by current Randolph education students
Register at www.randolphcollege.edu/association/category/events. Advance registration is recommended, so reading and activities can be tailored for the appropriate age group.
For more information, contact the Office of Alumnae and Alumni Relations at (434) 947-8102.
Tags:
education, elementary education, Office of Alumnae and Alumni