November 18, 2020
Outdoor installation brings 'craft-bombing' to the Maier
After five years of social justice activism, Emilie Bryant '22 found herself feeling burned out as she entered the fall semester. 
So when it came time to choose a topic on which to lead a class discussion for professor Lesley Shipley's art and activism course, Bryant turned to Shipley for advice.
"She suggested craftivism," Bryant said. "Perhaps she sensed my feelings, or she knew that I was a crafter, knitter, and maker myself, but it was the perfect topic for me. Craftivism is a type of activism built on the tenets of positive psychology, mindfulness, and gentle protest that is beneficial to burnt-out activists, introverts, or people who are wary of conflict. I immediately fell in love with its purpose and its practice."
Out of that newfound passion grew another: Yarning for Unity, an outdoor art installation that is now on display at the Maier Museum of Art at Randolph College.
Bryant was inspired by the concept of yarn bombing, a type of graffiti or street art featuring colorful displays of knitted or crocheted yarn or fiber instead of paint or chalk. Artists have yarn bombed everything from tree branches to statues—and even a tank, in Germany.
At Randolph, Bryant expanded the idea to include any kind of craft, identifying sections of the building artists could adorn. She and Laura McManus, the Maier's curator of education, installed the work earlier this week, wrapping lamp posts, columns, and signs with fabric, decorating trees and shrubs, and setting up 3D items on the lawn.
One of the Maier's benches is completely covered in bright, colorful yarn, dotted with flowers and the word "Peace" stitched across the top. The installation includes giant friendship bracelets, crocheted hands with ribbons, and what Bryant described as a "monumental tapestry," displayed on one of the building's columns, that reads, "If everyone helps to hold up the sky, then one person does not become tired."
"Emilie thought it would be an opportunity for people to connect, to put something positive out into the world through the making of this installation," said McManus, who worked with Bryant to contact artist friends they thought would want to contribute work.
They started on Facebook, creating a group where the artists could connect, and followed it up with a website, Instagram account, and Spotify playlist.
"Part of this process is learning how to manage a museum project," Bryant said. "This is why I am here at Randolph, and this experience has been beneficial in teaching me about project management, networking, social media management, website design, marketing, curation, museum education, and even collection management, to name a few."
Bryant didn't give participants too many instructions, instead opting to have as few constraints as possible. Her main message encouraged work that would embrace the themes of love, hope, and unity. Her final directive? "Feel good about yourself and your place in the world. You have a purpose, and we want to help you reach your purpose and amplify your voice."
The group that came together bonded quickly, offering support and inspiring each other as they sent "messages of goodwill into a world that is desperate for healing," Bryant said.
Her own contribution to the exhibit is a nearly 100-foot-long crocheted bunting.
"It has become kind of a timeline, a history of the project that I work on a little every day when I have a quiet moment to reflect and focus," Bryant said. "Sometimes I do it for five minutes, and sometimes for an hour. It's a very calming and mindful practice of repetitive movements. Every time I work on it, I am thinking about its purpose.
"I will never forget this experience," she added. "It has truly changed how I feel about myself and how I feel about the world."
Yarning for Unity will remain up through the end of the year, weather permitting. A take-home craftivism kit will be available for visitors to create their own installations at home. For more information, visit maiermuseum.org.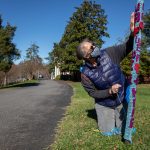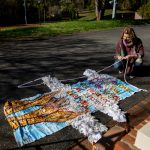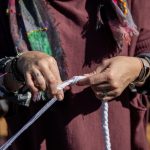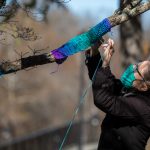 Tags:
art and activism, craftivism, Maier Museum of Art at Randolph College, yarn bombing, Yarning for Unity