October 3, 2020
Randolph student completes physical therapy internship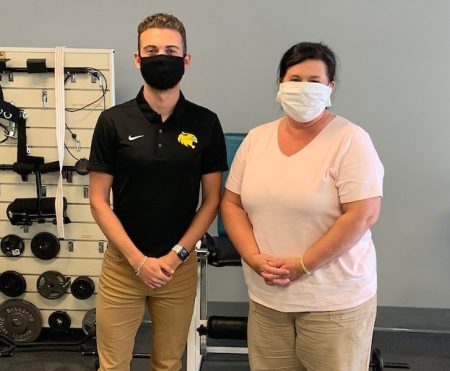 For Alex Dye '21, the summer was full of exercise routines and therapeutic treatments—and a chance to get a firsthand look at how to evaluate and treat physical therapy patients.
Dye, an aspiring physical therapist majoring in sport and exercise studies, spent six weeks interning with Merritt Physical Therapy & Rehabilitation in Claypool Hill, Virginia. Knowing he needs as much hands-on experience as possible, Dye first reached out to the center about shadowing one of their therapists.
"They worked with me and what I needed, as far as getting time in and feeling well informed about what they did," he said. "I shadowed my supervisor with their patients and learned what knowledge and techniques they use to provide care."
Dye also helped retrieve and set up equipment for sessions and assisted with paperwork during televisits.
He observed patients of all ages and various injuries, which he said will prepare him for his eventual entry into the field.
"After the first week, I felt comfortable, and it became routine to observe and record what I learned from each patient's injury," he said. "I got a visual on what to expect, and how to take what I learn and apply it to that environment. I also saw firsthand how to be professional with a patient while supporting them as they achieve their goals."
Tags:
2020 summer internships, Alex Dye, internships, sport and exercise studies, summer internships