July 6, 2020
A tale of two projects: Summer Research studying actions and perceptions in the world
This story is part of an ongoing series featuring the work of faculty and students participating in Randolph's Summer Research Program, which is being held virtually this year due to COVID-19.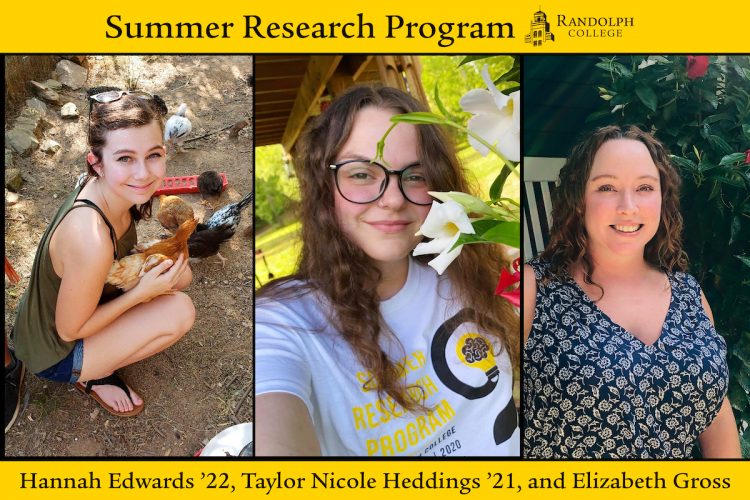 Psychology professor Elizabeth Gross had a plan in place for Randolph's Summer Research Program. Then COVID-19 happened—and she decided to switch gears with not just one but two different projects.
The first project, which she's working on with Hannah Edwards '22, looks at how the pandemic is affecting our behavior, while the other, a collaboration with Taylor Nicole Heddings '21, is based on Gross's dissertation research into slant perspective.
"The original project I had planned required a lot of data collection in person, which was very time consuming, and required two research assistants," Gross said. "Since I redesigned that project to fit the pandemic and moved it online, it freed up a lot more time for the summer, so I decided to take advantage of the extra time and run them both during SRP—multitasking, if you will."
The pandemic-inspired project is a continuation of work Gross and fellow psychology professor Holly Tatum have been doing that looks at morality and risk-taking in relation to academic honesty and dishonesty.
"It looked at what factors might cause cheating," Edwards said. "This is sort of the same set-up, where instead of cheating behaviors, we're looking at what factors predict pandemic-related behaviors. The factors we've chosen to isolate are disgust sensitivity, morality, and risk-taking attitudes."
Disgust sensitivity is essentially how predisposed someone is to experiencing disgust, and those with higher disgust sensitivity are often more likely to make strict moral judgements, and vice versa.
"Making moral decisions involves a little bit of risk assessment," Gross said. "It's risky in the sense that, socially, you might get caught and have repercussions, or risky in the sense that it might harm you."
When it comes to the pandemic, that could involve behaviors like wearing a mask, engaging in consistent hand washing, and wiping down your groceries.
"Are you more likely to do those things if you're high in disgust sensitivity and morality and low in risk-taking? Or are you less likely?" Gross said.
They're measuring that through an online survey asking people about different aspects of the pandemic and how they've reacted to it.
"What we've done is look at previous research on how people have studied morality and disgust sensitivity, and we've pulled from articles using those same techniques, and modified them to focus on the pandemic," Edwards said. "We decided to focus on the pandemic because, for one, it's on everyone's TVs. It has been found that if you try to measure something that's more relevant, hopefully you will have a greater response rate."
Because it is a topic on everyone's minds—and the subject of vigorous debate—Gross said they'll have to assess other factors as well.
"Like it or not, this is very politicized," she said. "Instead of just equating it to moral judgement, there's been work in political ideology and morality. It also might relate to the kind of morality that's most important to you. Morality can be broken down into, say, concerns about purity. But it also can be authority and how much you ascribe to authority figures, believing you should respect authority. Morality around harming other people or animals. We can look at what kinds of morality are important to people and how that predicts pandemic-related behaviors."
Gross said their work is open-ended—she's also interested in looking at the stockpiling of items and other behavior that is occurring around the pandemic.
"I'm hoping we can go through and create a follow-up if we see any interesting patterns."
Gross's other project deals with perspective, specifically what factors affect how people perceive hill slant.
"People typically overestimate the slant of hills, for example Lombard Street in San Francisco," Heddings explained. "A typical estimate might be 60 to 70 degrees, but it's actually 18. Previous research has shown we scale the hill slant based on the resources we need to climb it. The harder it may seem to climb, the steeper it looks."
Research also has shown that social support can have similar effects in the other direction. Imagining a positive social support—say, walking with a friend—can make the hill appear less steep.
In the past, Gross has found that men didn't respond to that social support manipulation, so she and Heddings are digging into that idea this summer.
They've designed an online survey asking participants to estimate hill slants while listening to various audio cues. Respondents will also answer a series of questions about themselves and who they envisioned as their social support to see how it affected their perception.
"The study is a little bit exploratory," Gross said. "I'm wondering if men aren't responding in the same way as women, and if the effect is being cancelled out by men that might look at the audio imagery task and respond in very gender stereotypical ways. We're replicating a study I did for my dissertation but this time, we're adding a questionnaire about how much they conform to masculine and feminine norms."
Though the topics may differ, Gross, Heddings, and Edwards have been able to foster a group spirit through regular virtual meetings.
"We're checking in every day, and there's a lot of back and forth," Gross said. "We created a daily goal spreadsheet with a rough schedule of what we want to accomplish by the end of each week. We meet and give each other updates, and we have our own tasks we need to complete."
In a way, working remotely has amplified the skills Gross envisions SRP offering to students.
"The great thing about this program is you want to allow the students some autonomy. You want to give them the experiences of conducting and doing research," she said. "For me, it's giving them that experience and the independence of really learning and doing it themselves."
Tags:
Blair Gross, Cognitive Science, COVID-19, psychology, summer research, summer research 2020