June 16, 2020
Rivermont Memories: Summer Research documents stories of current, former residents
This story is part of an ongoing series featuring the work of faculty and students participating in Randolph's Summer Research Program, which is being held virtually this year due to COVID-19.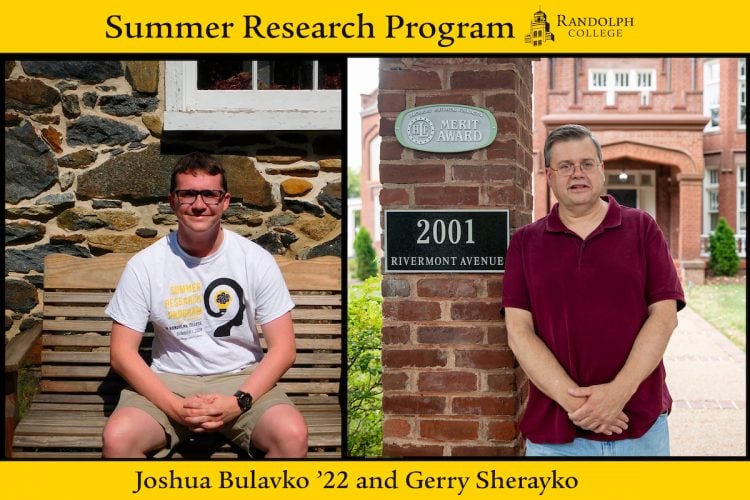 Josh Bulavko '22 and history professor Gerry Sherayko are spending their summer in the past, delving into the stories of folks who once lived and worked on Rivermont Avenue.
The work documenting the Rivermont Historic District is part of the 2020 Summer Research Program (SRP) and a continuation of past projects Sherayko has collaborated on with students in 2010, 2011, and 2015.
"I think it's very important for me, as a college student and a history major, to know more about Lynchburg and, for those who have lived on the avenue and around the college, what their lives have been like," Bulavko said. "Some of them have lived there for a really long time, so Lynchburg has obviously changed. It's just important for me to put the pieces together because there are so many stories that should be shared with the public."
The 2010 and 2011 projects led to the creation of the Friends of Rivermont website, which offers an inventory of every building in the historic district. Established in 2002, the district runs from Link Road to 5th Street and is the largest in Lynchburg.
Each website entry includes information about the building's architectural features and the people who designed, built, and owned it over the years. Some also include anecdotal information gleaned from oral histories Randolph students have collected.
"This summer, it was time to update things, lots of things, again," said Sherayko, a Friends of Rivermont Historical Society board member.
They're limited in what they can do because of the pandemic—Bulavko won't be collecting any oral histories or cataloguing the historic markers along Rivermont, as originally planned.
Instead, he's focusing on some of those previously gathered stories that haven't been processed yet.
"We did interviews in 2010, 2011, and 2015, with people who had memories of living on, working on, and worshipping on Rivermont Avenue," Sherayko said. "The goal for this summer is to put into narrative form those interviews, which is a skill, or an art, and it's not easy. Josh is an excellent writer so I'm depending on him to put these together."
Many will wind up on a new section of the website, called Rivermont Memories.
"When they're talking about a specific address, 456, you grew up at 456 Rivermont, and you have certain memories about that space. That's the place on the website where we want to put it," Sherayko said. "The ones that Josh is working on are more complicated. They're longer. So we decided we're going to have a separate space on the website where we sort of combine all these things—because some of these stories don't lend themselves to any particular address."
Bulavko is focusing on 10 of the nearly 40 histories, many of which came from people with connections to Randolph—such as Muriel Zimmerman Casey '53, who retired as alumnae director after a 30-year-tenure at the College. A building now named for her is located across from Randolph on Rivermont Avenue and houses the alumnae and alumni offices.
Another institution that comes up often when former residents wax nostalgic is The Columns, a restaurant opened in 1940 by Katharine Mundy '38.
"It was not just a Lynchburg institution, but a Virginia institution," Bulavko said.
For each recording, Bulavko is listening and taking notes before assembling the narratives. And, even though he didn't interview the participants himself, he's enjoying the sense of discovery that comes with each new story.
"It almost makes it more fun going through the questions Dr. Sherayko compiled with different students in the past," he said.
"It is an exciting challenge to create a piece of writing for Lynchburg public history enthusiasts to enjoy," he added.
Sherayko said the earliest memories they've documented come from the 1930s and 1940s. In the past, they've typically used the same set of questions, but he's often surprised at where the conversations can go.
"All of a sudden, social history will creep in in ways you don't expect and yet it's really kind of enlightening," he said.
"Sometimes you can glean some really important stuff. We're not asking it in a very specific sense, like what it was like to be a woman in the '50s, but sometimes you get that. We weren't interviewing them about issues of race, but you get that."
One story that sticks out in his mind was from a homeowner they talked to in 2011. When he found out the house's former housekeeper lived nearby, he invited the woman, who is black, over for a visit, and she was uncomfortable walking through the front door.
Another man talked about his white grandmother causing a stir when she sat down next to a black woman near the back of a trolley.
"They are these little snippets of history that can somehow go well beyond just the houses and the fond memories, from big issues within this country to sometimes international issues," Sherayko said, referencing a historical marker in the district for James Rives Childs, who grew up on Rivermont and went on to save more than 1,000 Jews during the Holocaust in his work as a diplomat.
"This little microcosm, this stretch here, so much can be done with it. Things evolve. New people move in who have their own histories. History isn't only the '40s through the mid-'60s. It went on."
Tags:
Gerry Sherayko, historic district, history, Rivermont Avenue, student faculty research, summer research, summer research 2020