April 7, 2020
Randolph donates materials to Vector Space for PPE production
Randolph College has donated supplies to Vector Space to help the local business in its efforts to produce personal protective equipment for health care providers.
The donation, dropped off Monday, included transparencies and 3D printer filament. Randolph also temporarily loaned the organization its 3D printer to help in the production of face shields. The 3D printer is used by Randolph's physics and engineering department and its classics department.
"This is a full-shield face mask to guard eyes, nose, and mouth," physics professor Peter Sheldon said. "You've got the visor piece that goes on your forehead. The 3D printer prints that, and you attach the transparency, which is the shield that will go down from the visor to cover your face. It's sort of like a welder's shield."
Vector Space owners Elise and Adam Spontarelli began making the shields after Centra Health representatives reached out to them. Hospital workers usually wear masks but with those running low, the shields will provide additional protection, Elise Spontarelli recently told The News & Advance.
Sheldon is a Vector Space board member and facilitated the donation of materials, which came from several departments on campus.
"It turns out we have lots of them," he said. "Between us and the Greek Play, we had lots of 3D printer film because the Greek Play prints full-size heads on the 3D printer."
Sheldon said he brought over the printer to help increase their capacity.
"What most people don't realize is that 3D printing isn't just hitting send to a printer. It takes quite an effort," he said, noting it takes about three to five hours to print each shield. "It's so slow. The more printers Vector Space has, the more efficiently they can run."
Sheldon said he was awed by the work the Spontarellis are doing while Vector Space, their livelihood, has been closed during the pandemic.
"They're just spending their entire day making these things for the public," he said. "They're doing good."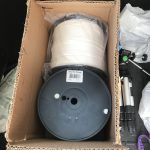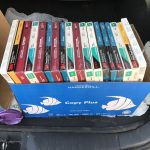 Tags:
3d printing, coronavirus, COVID-19