April 13, 2020
Growth & Change: Randolph expands curriculum with several new programs
Several new academic programs will debut during the fall as Randolph continues to grow its curriculum offerings.
The new programs include a master's program that is the first of its kind in the Old Dominion Athletic Conference, two majors, and a minor.
"Growth and change are important to pursing our mission," said Carl Girelli, provost. "A central feature of a liberal education is adaptability, and we model that through our eagerness to innovate to meet the needs of changing students in a fast-changing world."
Master of Arts in Coaching and Sport Leadership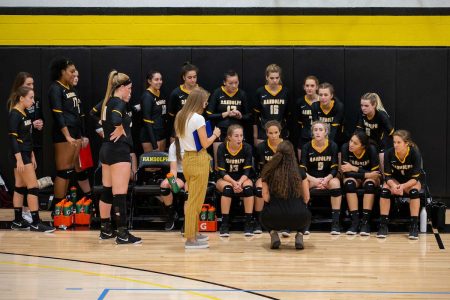 The new Master of Arts in Coaching and Sport Leadership is currently accepting applications for next year. Students can choose to do the intensive, one-year program online or on campus, and the first cohort begins in July 2020.
"At the collegiate level, and especially in Division III athletic programs, the responsibility of coaches surpasses what they do anywhere else," said Meghan Halbrook, a sport and exercise studies professor and director of the new program. "This program will give students a broader understanding of both the sport they are in, as well as the things they are going to encounter day-to-day in a coaching career. They will also be prepared for a number of career fields, including those not directly related to coaching, such as athletic administration or health education."
The curriculum will include courses in subjects such as psychology, research methods, coaching techniques and theories, sport administration, media and technology, conditioning, and more.
While the program is open to qualified graduates from all schools, it will be an even greater opportunity for Randolph students, Halbrook added.
Computer Science and Mathematics Major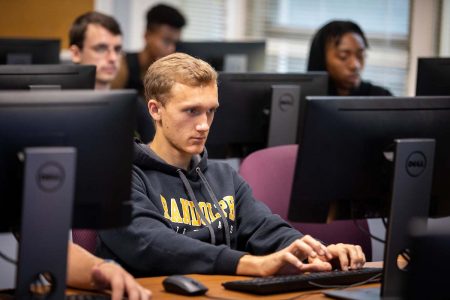 With its new computer science and mathematics major, Randolph will join a growing list of prestigious schools offering a hybrid program.
"The new major combines the best of both programs," said Jia Wan, a mathematics professor. "Students will learn to solve real-life problems with math-reasoning skills and computing techniques."
The curriculum incorporates computer science courses, such as coding and programming and computer architecture and assembly language. It also includes mathematics courses in linear abstract algebra, calculus, and more.
"This will give students a broad grounding in these two overlapping fields and a skill base that won't be out of date in just a few years," said Marc Ordower, a math professor.
Media and Culture Major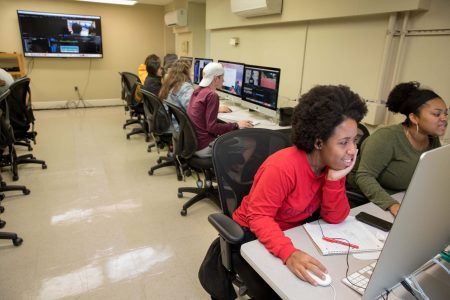 Beginning in the fall, the communication studies program will be renamed the media and culture major. The new major will now be interdisciplinary and allow students greater choice in classes from a variety of departments across campus, while also providing a more pragmatic way to approach the media.
"We were inspired to make this change by the ubiquity of media in a variety of forms in all of our lives today," said Jennifer Gauthier, one of the professors leading this initiative. "Its influence is inescapable, and this major teaches students how to approach it with a critical eye."
The major will continue to offer students experience in the critical and historical study of the media, along with the visual storytelling skills they need to create their own digital media. The courses include topics such as social research and qualitative and quantitative analysis, social theory, and advanced digital filmmaking, among others.
Cognitive Science Minor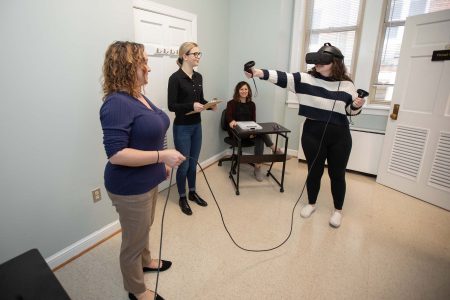 A new minor will provide students with an interdisciplinary study of the nature of human knowledge and how it is acquired and used. Cognitive science draws on concepts and methodology from psychology, philosophy, computer science, language sciences, and neuroscience.
"Building on the expertise of the faculty in the psychology department along with the new offerings in data science and computer science, we saw an opportunity to create an interdisciplinary minor that offers great value to students interested in learning more about how we acquire and use information to learn, reason and problem-solve—skills that have a wide application across disciplines," said Holly Tatum, a psychology professor and The Mary Sabel Girard Chair in Psychology.
Study in cognitive science can prepare students for graduate education as well as jobs in a variety of industries. There are wide-ranging career paths related to cognitive science, including human-computer interactions, data science, product design, software engineering, research, and artificial intelligence.
Tags:
Cognitive Science, computer science, Master of Arts in Coaching and Sport Leadership, mathematics, media and culture, Vita No. 8