April 17, 2020
From pioneer to innovator: Randolph continues its rich science tradition with new capital building campaign
"Aunt Maria" Graves was a beloved fixture at Randolph-Macon Woman's College. A former slave thought to have been about 10 years old during the Civil War, she began working at the College when it first opened to students in 1893.
According to a history of the College written by Roberta Cornelius, one day in 1935, Graves stopped President Theodore Jack in the hallway to ask him about the new science building.
The current facility, which was built in 1906, had become inadequate for the College's needs.
Though a grant was originally secured in 1931, the matching requirement was too much, and the project was put off for four years. Finally, in 1935, a new grant of $75,000 was negotiated—with the stipulation that the College raise a matching amount. Not wanting to undergo a large fundraising campaign, Jack told the Board of Trustees he would raise the money needed for the building.
That's where Aunt Maria came in. She admitted she didn't know much about science. But what she did know was how important it was to the College she loved.
Taking him aside, she said, "Son, I want to give you something for your building."
"Well, Maria," he replied, "you give me a dollar, and I will make it bring in a hundred."
"No son," she told him. "I will give you one hundred dollars for your building."
And she did, becoming one of the first donors to the new building. That $100 was part of her life savings and would be the equivalent of $1,875 today.
Gifts from other staff, faculty, alumnae, and friends provided the additional funds, and work began on the new building. Named in memory of the first scientist on the College's faculty, the Fernando Wood Martin Science Building was dedicated on Founder's Day in 1938. The total cost of construction was $200,000, and the cost of equipment was $25,000.
From its beginning days, R-MWC was known as a pioneer. During a time when most women were not educated in the sciences, the College offered courses in physics, astronomy, biology, chemistry, and more. In fact, according to the local newspaper in 1898, "The equipment is as complete as may be found in the best colleges for men in any section of the country…"
Preparing the Scientists of Tomorrow
"Times and technology have drastically changed in the nearly 130 years since the College opened," said President Bradley W. Bateman. "But Randolph continues to maintain its commitment to preparing the scientists of tomorrow with a rich, broad liberal arts background."
Part of that commitment includes offering an academic space that best meets the needs of today's learners, provides ample space for the College's growing STEM program, allows for the expansion of interdisciplinary programs, and encourages collaboration between faculty and students.
"At Randolph, we are preparing the scientists of tomorrow with a comprehensive liberal arts background," Bateman said. "Our students graduate with science experiences and an education that are transformational."
The facility, Bateman added, still resembles its original design from the late 1930s.
"In order to attract and retain the most academically talented students and to keep pace with the scientific advances that drive the curriculum in contemporary college science programs, we must have a building that reflects Randolph's rich history and the high academic caliber of our current endeavors," he said.
Meeting a Growing Program's Needs
As a result, Randolph's Board of Trustees recently approved plans for a $26.5 million renovation of the building. Fundraising has already begun, and the College plans to take advantage of Historic Rehabilitation Tax Credits as well. Construction is scheduled to start in May 2021.
"We need this renovation to keep our natural science programs competitive and to create a brighter, more welcoming environment for students to study and learn," said Adam Houlihan, a biology professor. "The renovation will also provide more space for faculty research, better lab layouts, and a floorplan that is conducive to shared research endeavors."
The renovation includes two new additions totaling 10,000 square feet. One will be located on the Rivermont Avenue side of the building, and one will be on the Norfolk Avenue side. In addition, the current facility will undergo a complete renovation.
The multi-phase project is estimated to be complete in summer 2023. It includes a modern, energy efficient-design that features nine state-of-the-art labs, more flexible and collaborative learning spaces, and a Maker Space. Maker education, which focuses on learning through creativity, interdisciplinary concepts, and experimentation, is in high demand across the United States. Providing access to this type of space will allow students from all disciplines an area to explore and create.
"One of the new ideas we're talking about with the architects is the ability to combine lecture and lab space for some classes," said Ann Fabirkiewicz, The Charles A. Dana Professor of Chemistry and Natural Sciences. "The designs we've seen also provide better space for student collaboration and group study, and more spaces for informal student and faculty interaction."
In addition, the renovated facility will provide additional room for the expanding science programs and bring all of the departments together in one building. Currently, environmental science is housed in another building. The renovation plan also preserves the Bliss Botanical Garden, which is north of the building.
Most importantly, the renovated building will accommodate the rapidly expanding science programs at Randolph. The number of students interested in the sciences has doubled since 2010, and several programs have been created to meet the needs. Step-Up to Physical Science and Engineering at Randolph (SUPER), for instance, provides a four-year program for students interested in science, and since its first pilot program in 2010, the College has seen a 112 percent increase in science majors.
"An attractive, inviting space will encourage students and faculty alike to spend more time focusing on research, discovery, and learning experiences and will enhance the already thriving sciences at Randolph," said Peter Sheldon, The Charles A. Dana Professor of Physics and Engineering and director of the Center for Student Research.
"The College is moving forward strongly, innovating for the best student experience. We have paid close attention to what our students are looking for and what they need for the best educational, co-curricular, and extracurricular experiences. And we are building our programs and spaces to meet those needs. It's a very exciting time for the College as we innovate across campus with an improved athletic facility and improved science facility."
A Tradition of Support
Similar to the 1930s, when Maria Graves led a group of alumnae and other supporters by donating a chunk of her savings for the current science building, Randolph has already received significant support for the renovation plans.
More than $10.4 million has been raised so far, and a public fundraising campaign will begin this spring.
"Randolph is fortunate to have so many alumnae, alumni, and other supporters who make it possible for us to provide the best possible experiences for our students," Bateman said. "Our science programs have had a significant impact on thousands of students over the years, and we are proud to continue this tradition of excellence into the future."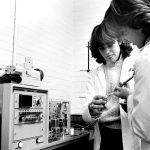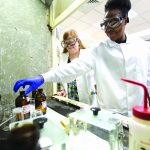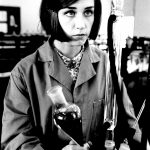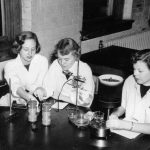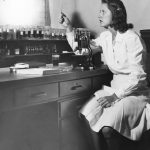 Tags:
Martin Science renovation, quotables-physics, science, Science Matters Campaign, Vita No. 8