July 9, 2019
Fiske Guide to Colleges touts Randolph as one of the nation's "Best and Most Interesting" institutions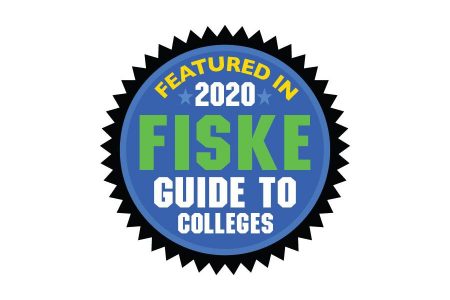 Randolph College was again recognized as one of the nation's "best and most interesting" institutions in the 2020 edition of the Fiske Guide to Colleges.
The Fiske Guide to Colleges does not rank universities and colleges numerically, but assesses the strengths and weaknesses of what it considers the top institutions in the United States, Canada, Great Britain, and Ireland. More than 300 institutions are included.
The Fiske profile touts Randolph's strong academic programs, faculty/student relationships, close community, and campus activities.
"Fitting in isn't what Randolph is about," said one sophomore. "One of our mottoes is 'Be an Original,' and you can see that throughout the school."
Students praised Randolph for its interdisciplinary, liberal arts and sciences curriculum and for its unique offerings such as SUPER, sponsored internships, and the American Culture Program. They also said the Honor Code and close relationships with faculty and others in the College community are what make Randolph special. "Professors know what interests you and are always open to helping out with finding jobs or internships," one senior said.
Students agreed there is a "respectful exchange of political views on campus."
"Gender and race are two topics frequently discussed as the college strives to be inclusive and transparent," according to a senior.
Other students commented that there are plenty of traditions and fun events to take part in outside of class.
"The College went co-ed [over 10] years ago and so the population changed," one student said. "But the core dynamic and value system did not. Students still value respect and responsibility."
Fully updated and expanded every year, Fiske Guide to Colleges 2020 is the most authoritative source of information for college-bound students and their parents. It is compiled by former New York Times education editor Edward B. Fiske, who is one of the top independent voices in college admissions. Read more about the 2020 edition at www.CollegeCountdown.com.
Tags:
Academics, Fiske Guide to Colleges, national rankings, national recognitions, rankings, Student Life, traditions