June 21, 2019
Super saddle: Summer Research examines healing properties of Thera-tree technology on horses
Sidney Clark '22 has spent her entire life around horses. She has worked in barns, taken riding lessons, and recently even acquired a mare of her own. However, she's now studying a piece of equine technology she had no idea existed until this summer.
Clark is working on a Summer Research project with biology professor Amanda Rumore to test a new device called Thera-tree ®. The device was created by Tad Coffin, a former Olympian turned saddle designer. While Coffin has been researching and developing new saddles for several decades, he recently discovered that when prietary acrylic material is melded with carbon fiber, it creates a piezoelectric effect.
When placed inside a saddle, the product emits infrared waves that seem to reduce back pain in horses. Specifically, Coffin has observed that it reduces inflammation and improves circulation. It also appears to improve overall performance and alleviate stress. Rumore saw demonstrations of the new product last year and was intrigued by what she saw and heard about it.
"He rents these out to people rather than selling them right now because he is trying to get more information and feedback from people who use them," Rumore said. "What's really interesting is that he's had people say that their child has anxiety and sleeps with it, or that their dogs have thunderstorm anxiety, and they'll curl up on top of it."
For their project this summer, Rumore and Clark are testing two of the Thera-tree saddles on four middle-aged horses (two mares and two geldings) at Brookhill Farm in Forest, Va. First, they established a baseline by placing a regular saddle on each of the horses for 30 minutes during a 10-day period. Now they are following the same procedure using the Thera-tree saddles to see how they compare.
In each test, Clark is monitoring the horses' behaviors and looking for any signs of distress. She's also measuring each horse's heart rate before and after wearing the saddles and using a thermal camera to take images of their backs to determine if there is an increase in blood flow. Additionally, she is conducting back palpitation tests on each horse to see if they show fewer signs of pain after using the Thera-tree saddle. After the testing, Clark will compile her observations into pre- and post-trial analysis reports.
The project was a perfect opportunity for Clark, who wants to major in biology and minor in equine studies. Quoting a line from a popular movie, Rumore joked that she asked Clark to collaborate with her because she had "a very particular set of skills."
"It's just really interesting because I hadn't ever heard of this before until Dr. Rumore mentioned it to me," Clark said. "I'm looking into continuing to work with horses this coming year and in my future, so doing this kind of research really opens a lot of doors for me. Before I was just thinking I could be a trainer or a vet, but now I've seen that I could go into testing products like these for horses."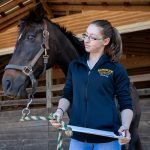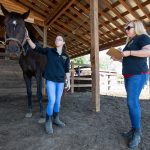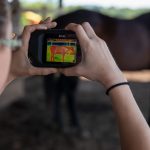 Tags:
Amanda Rumore, biology, equine studies, student faculty research, summer research, summer research 2019