April 26, 2019
Coming home: Randolph couple begins next chapter of their love story with return to Lynchburg
It was a Tuesday in November 2011, and Aaron Humphreys '11 had the perfect plan. He would wait on the bench by the Sundial for one of his girlfriend's friends to send her outside their room in Wright Hall at the designated time.
"The Sundial," he said, "is a staple on campus. It's the first landmark you see, and it represents time. I believe love, relationships, and time go hand-in-hand."
However, his carefully orchestrated moment didn't turn out the way he planned. It began to rain, and Humphreys's umbrella broke. Drenched, he stayed put until his girlfriend, Megan Wheatley '13, unsuspectingly made her way over to the Sundial. Much to her shock, he got down on one knee and proposed.
Neither one remembers her saying yes. They do remember it being a perfect moment despite its imperfections.
"It definitely took me by surprise," Megan said. "I had been carrying on my day as usual, and then ended up experiencing a life-changing moment. Aaron jokes that I never answered his question, and I can't say for certain, but I wouldn't be surprised since the experience left me speechless the remainder of the day."
It was the next chapter in a love story that began when Aaron was a junior and Megan a first-year. Aaron and his soccer teammates attended a volleyball game that year. That's when he first saw—and later met—Megan, an outside hitter for the team.
"We started hanging out and found out that we had a lot in common and a lot of friends in common as well, and it kicked off from there," Aaron said with a smile.
After graduation, Aaron moved home to Powhatan, Virginia, where he worked in a physical therapy clinic. Megan finished her third year at Randolph and then moved to Vanderbilt University for the remaining two years of a 3-2 program in nursing.
"Communication is vital to every relationship," Megan said, "whether it be spouse-to-spouse, parent-to-child, or even among friends. Learning how to voice our opinions, debate and discuss, and problem solve to find solutions and compromises allowed us to have quality communication and trust in each other. All of this helped mold our relationship as a couple, and us as individuals."
Despite the distance, the couple's relationship persevered, and they were married in 2013. Aaron became interested in the field of school counseling and earned his graduate degree. After Megan received her degree and license as a pediatric nurse practitioner, the couple moved to South Carolina, where they stayed for nearly five years.
Deciding they wanted to be closer to family and friends, Megan accepted a position at the Johnson Health Center in Lynchburg. "It seemed like the right place for us to settle down and start raising a family," Aaron said. "It feels like we've come full circle."
Aaron now serves as the scholarship coordinator at E.C. Glass High School and the assistant women's soccer coach at Randolph. Their daughter, Jacqueline, was born in October, and the family loves being near their friends and relatives.
"We have so many memories here," Aaron said, adding that the Sundial will always hold a special place in their hearts. "For us, the Sundial marks the beginning of our college careers and our relationship, and it symbolizes that all good things happen in time."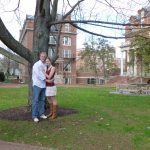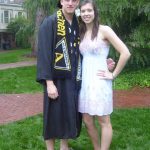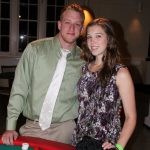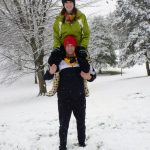 Tags:
alumnae, alumni, magazine, Megan Wheatley Humphreys, Sundial, Vita 2019 03 Spring, Vita Abundantior magazine - No. 6