March 6, 2019
2019 Science Festival explores 'The Art and Science of Origami'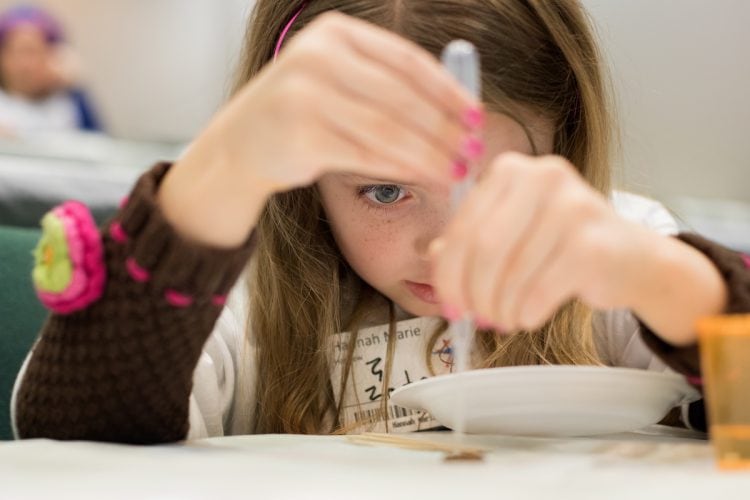 Did you know there is a mathematical algorithm to the art of origami? Did you also know that the algorithms and theorems of origami design have shed light on long-standing mathematical questions and have solved practical engineering problems? Robert J. Lang, a physicist and one of the world's leading origami artists, will explain the connection at his keynote for the 2019 Science Festival at Randolph College.
The Science Festival is a series of free events during March that allow the community to discover and celebrate the beauty of science and its connection to many aspects of life. The program, which has something for all ages, has grown significantly since it began in 2009, and continues to add new attractions each year.
This year's slate of events kicks off with the Pi Run on Thursday, March 14. The 3.14-mile fun run starts in front of Main Hall at 6 p.m., takes participants down the sidewalks of historic Rivermont Avenue, and ends back at Main Hall. Pre-registration is required at http://randolphscience.org/pi-run-details/, and is limited to 300 participants. All pre-registrants will receive pie and a free t-shirt upon finishing the run.
The main series of events begins with Lang's keynote and open class on Thursday, March 21. Lang has been an avid student of origami for over 50 years and is recognized as one of the world's leading masters of the art, with over 700 designs cataloged and diagrammed. His repertoire includes some of the most complex origami designs ever created and combines aspects of the Western school of mathematical origami design with the Eastern emphasis upon line and form to yield models that are at once distinctive, elegant, and challenging to fold. His work has been shown in exhibitions in New York, Paris, San Diego, Japan, and elsewhere.
Lang is also the author or co-author of 21 books and numerous articles on origami art and design, and in 2011, he was elected an honorary member of the British Origami Society. Along the way to his current career as a full-time origami artist and consultant, he worked as a physicist, engineer, and R&D manager. He is a Fellow of the Optical Society of America, a member and past vice president of the IEEE Photonics Society, and from 2007-10 was the editor-in-chief of the IEEE Journal of Quantum Electronics. In addition, he was chosen as one of the inaugural Fellows of the American Mathematical Society in 2013.
For the third year, Vector Space will bring its popular Mini Maker Faire to the Science Festival. The event will take place Sunday, March 24, from 12-4:30 p.m. As part of the slate of family-friendly, Sunday science activities, the maker faire features hands-on activities and demonstrations, amazing exhibits, locally made products, and a group-build project. Activities are designed for children as young as 4 years old, as well as adults.
The Randolph College Science Festival evolved from the popular Science Day, a free program offered to children in grades 3-6, which began in 2005. The popularity of the one-day Science Day, which routinely fills its registration early, led to the creation of an even bigger festival that would allow Randolph to share the beauty, fun, and relevance of science to all ages. The event now encompasses multiple days and has a large number of community sponsors. Led by the Randolph College Society of Physics Students, the Science Festival also features one of the largest groups of student, faculty, and staff volunteers on campus.
Other highlights of the 2019 Science Festival include:
The Poetry Jam! Reading and Competition Awards will be held Friday, March 22, at 6 p.m. in Wimberly Recital Hall. Finalists in Randolph's K-12 science-based poetry competition will share their work, and prizes will be awarded to the authors of the top entries.
A Scientist Goes to the Movies: Jurassic World: Fallen Kingdom will be held Friday, March 22 at 8 p.m. in Martin Science Building. Doug Shedd, the Catherine Ehrman Thoresen '23 Professor of Biology, will provide commentary on the full-length movie. Free popcorn will be provided.
Science Day is scheduled for Saturday, March 23. This popular event features an afternoon of activities for students in grades 3-6. The Randolph College Nursery School also will host Science Day for Little Scientists for children ages 3-7. Prior registration is required for both of these events.
The Glow Stick Star Party begins at 8:30 p.m. on Saturday, March 23, in the Winfree Observatory. Scientists of all ages will have the opportunity to look up at the stars using the telescope at the Winfree Observatory. The event will be held rain or shine, and free glow sticks and refreshments will be provided.
Sunday Science Exhibition for All Ages start Sunday, March 24, at noon, and drop-in activities take place in various locations across the Randolph campus. In addition to the Mini Maker Faire, robots, lasers, and local companies and organizations will be on hand with interesting scientific activities, including a lightning machine, Newtown's Cradle, and the Non-Newtonian Fluid Pool.
The Junior FIRST LEGO League Expo takes place Sunday, March 24, and begins at 12:30 p.m. in Smith Memorial Building. Team registration and more information is available at http://randolphscience.org/fll/.
The Science Café will take place Sunday, March 24, in the Conway Corner convenience store in Main Hall. During three sessions at 1:30, 2:30, and 3:30 p.m., Randolph education students will lead hands-on activities and answer science questions from people of all ages.
The Science and Art Saturdays Reception will take place Sunday, March 24, at 2 p.m. in Room 415 of Martin Science Building. High school students who participated in Randolph's free Science Saturdays program will be recognized as Science Saturday Scholars. Find more information about the program at randolphcollege.edu/sciencesaturdays.
Visit www.randolphscience.org for the full schedule of events or to register for events.
Tags:
2019 Science Festival, art, events, Junior FIRST LEGO League Expo, Maker Faire, origami, Poetry Jam, Robert Lang, science, science and art saturdays, science day, science festival, scifest, speakers, Winfree Observatory