December 3, 2018
Reduce, Reuse, Save: Students create free Rummage Room to handle end-of-year move-out waste
As a sustainability intern at Randolph her sophomore year, Marie Abowd '19 was charged with finding new ways to reduce the College's carbon footprint. She was amazed to learn the College was paying to discard tons of waste when students moved out of residence halls at the end of each academic year. That's when inspiration struck, and the following fall she helped create the Randolph Rummage Room.
Located in Room 366 of Main Hall, the Rummage Room is a space where students can donate usable items, appliances, and furniture they no longer need when they move out at the end of the academic year. In turn, new and returning students can look through the selection and take the supplies, free of charge. Some of the hottest items on the market are crafting supplies, kitchen items, clothes hangers, vacuums, and box fans.
"We're trying to make it easy and accessible for everyone, and it's a good feeling to know that people are seeing the College's impact and their personal impact," Abowd said. "Even the faculty here are donating stuff when they clean out their offices, and they're very eager to contribute."
The Rummage Room has garnered attention from both the College community and beyond. In April, the PepsiCo Foundation awarded Randolph a $3,480 grant from the 2017-18 PepsiCo Recycling Zero Impact Fund to help purchase supplies, like storage and collection bins, and to pay student workers to operate the Rummage Room during more convenient hours.
Additionally, the grant provided a scale to weigh how much waste is saved from going to landfill. As of September, the Rummage Room had diverted almost 2,013 pounds worth of items. While most donations are placed in the Rummage Room, other items, such as clothing, blankets, and towels, are donated to organizations that can use them like Goodwill and the Lynchburg Humane Society. Textbooks are also a popular commodity, and organizers have created a free textbook library in West Hall.
"My thought was to make it easier for students to see the textbooks we have accumulated, provide a location they could access anytime, and create a space they could leave books they are done with," said Allison Brooks '18, sustainability coordinator and assistant to the director of buildings and grounds. She works with student-organizers on the Rummage Room. "Many professors will reuse books for their classes or will allow you to use an older version of a book, so there is a lot of opportunity for reuse within our community."
Abowd is proud to see how far her project has progressed and believes it provides a much-needed service to students.
"As an environmental studies major, I'm personally passionate about this," Abowd said. "I hope that eventually it becomes a norm on campus, and when people are packing they just know that their stuff can go to the Rummage Room."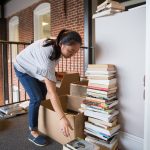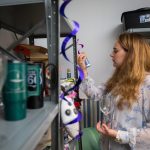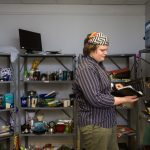 Tags:
Allison Brooks, environmental sustainability, Marie Abowd '19, Rummage Room, sustainability, Vita Fall 2018, Vita No. 5