August 9, 2018
Sister act: Different passions and personalities allow Samuels twins to create their own distinct college experience
After living together their whole lives, twins Taylor Samuels '18 and Stacey Samuels '18 knew they needed some separation during college. Taylor knew right away she wanted to play basketball at Randolph. But Stacey was torn between Randolph and another college where her best friend was planning to attend. However, after she visited Randolph, it didn't take long for her to reach a decision.
"The campus was beautiful, and everyone was just really sweet," Stacey said. "I loved it here, and since my sister would be here I thought it would be even better."
Throughout their four years at Randolph, the twins were able to remain close while also developing their own interests and friends. In some ways, they are opposites. Taylor earned degrees in mathematics and economics, and Stacey studied studio art. They never took any of the same classes—and never had any desire to be roommates.
"Stacey used to say, 'Maybe by the time we're seniors we'll be at the point where we want to live together again.' But when we made it there, we both said, 'Nope,'" Taylor laughed.
Despite their differences, the sisters still remained close in college. Both were on the women's basketball team all four years, with Taylor playing as a guard and Stacey serving as team manager. They often got together to watch movies and have wacky, impromptu dance contests, and both were known for frequently sending Snapchat videos back and forth trying to replicate each other's dance moves.
"I don't know how she did some of the crazy stuff she did, but I tried to keep up with her," Taylor said.
Sometimes their friends would swear they were dancing in sync or anticipating each other's movements. But ask them if they have something like twin ESP, and their differences come out again. One answers yes, and the other no.
"We just have spent a lot of time together and know each other that well," Stacey said.
Leaving the Red Brick Wall after graduation means starting new lives away from college—and most likely, each other—a thought both see as bittersweet.
Taylor hopes to become an actuary, compiling and analyzing data involved with risk for insurance companies. Stacey, meanwhile, is pursuing a position at an art museum and also graduate school. They hope their next steps don't take them too far apart geographically.
"I still don't know if we could be roommates," Taylor said with a grin. "But I think we could live in the same area again."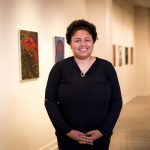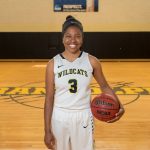 Tags:
art, basketball, magazine, Stacey Samuels, Taylor Samuels, Vita 2018 July, Vita Vol. 1 No. 4