August 8, 2018
Major Growth: Sport and exercise studies major with liberal arts approach sees marked growth
Kinesiology is one of sport and exercise studies professor Carolyn Sarson's favorite classes to teach. She's even been known to spontaneously break into song and dance, like in a class last fall when she performed The Supremes's "Stop in the Name of Love" to demonstrate movement using the shoulder girdle and scapula.
The class is just one of those required for Randolph's sport and exercise studies major. Launched in 2012, the program is now one of Randolph's most popular majors, growing from just eight majors when it began in spring 2012 to 52 in spring 2017.
"For many students, sports is their passion," Sarson said. "It's a field they probably found an interest in at a young age, and some have been playing sports since they could walk."
However, the program's liberal arts focus goes well beyond sports and adds a deeper understanding of the field by including courses that overlap other disciplines.
"We offer a broad, liberal arts curricular base that challenges students to explore foundations of human movement, personal health and fitness, management, social and behavioral sciences of sport, and the fine arts," Sarson said.
Students take courses in everything from kinesiology to sport psychology to leadership and motivational dynamics. And many choose minors that further enhance their interests, such as business, sociology, and psychology.
Ashley Stevens '14, one of the program's first graduates and now head women's lacrosse coach at Kings College, benefited from the wide range of courses offered.
"Courses such as Intro to Athletic Training and Sports Management prepared me for my working relationship, while classes focused on nutrition and exercise implementation helped me develop successful training programs for my athletes," she said.
Another of the program's first graduates, John Grundy '14, is now a YMCA senior program director in El Dorado, Kansas. While at Randolph, he learned American College of Sports Medicine (ACSM) standards, which gave him the tools to pass three universally recognized certification exams, including the ACSM EP-C exam.
"I wanted to build a career in the fitness industry so I could coach people in achieving the impossible," Grundy said.
Sarson and Meghan Halbrook, another professor for the program, agree that changing lives and getting to know students on a personal level are part of what they enjoy most about the program.
"I knew the teams they liked and really got to develop relationships with them," Halbrook said. "I got to talk to them outside the classroom and was able to relate things inside the classroom to their lives outside the classroom using personal examples and helping them get to the next step in their lives."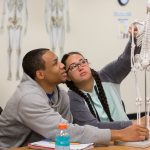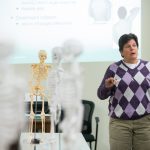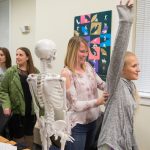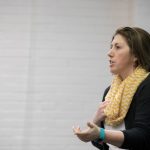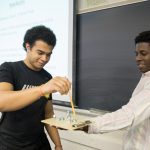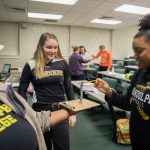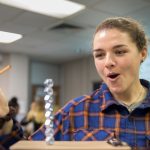 Tags:
Academics, Carolyn Sarson, liberal arts, magazine, majors, Meghan Halbrook, outcomes, sport and exercise studies, Vita 2018 July, Vita Vol. 1 No. 4