March 30, 2018
Virtual Reality: Aubrey Husted Norris '05 is a key player for Minecraft franchise
Alumna uses her talents as part of leadership team for Minecraft
Aubrey Husted Norris '05 played Minecraft for the first time in 2012. She quickly became hooked on the concept of building her own vast, virtual world, while enduring the challenges of the game's survival mode. Six years and thousands of hours of playing time later, it's more than her favorite video game—it's her job.
Norris serves as the senior global communications manager for the Minecraft franchise, which is one of the best-selling video game series of all time. In her role, Norris oversees all public relations and media communications. She also manages a community team that gets feedback from Minecraft players, runs online chats and social media, and organizes livestream broadcasts from the Minecraft studio in Redmond, Washington. Additionally, she coordinates worldwide marketing strategies with her counterparts in Stockholm, Sweden, and sits on the Minecraft leadership team with the franchise's top executives.
"I work with a lot of people here who have been in the gaming industry for a really long time," Norris said. "It's amazing to be able to sit in meetings with people like that and to be making decisions along with people of that stature."
Norris herself has 10 years of experience in the gaming industry. Prior to her current role, she worked in public relations and marketing for the gaming companies Deep Silver Volition and South Peak Interactive. Norris said her international relations degree from Randolph helped her become a skilled communicator, which has been essential throughout her career.
"I really appreciate having a liberal arts education because it made me a really well-rounded person," Norris said. "I have a lot of knowledge in a lot of different areas. Especially from working at smaller companies, I know a whole lot about stuff that's not in my area of expertise because I'm innately trained to pay attention to things that are not in my area of specialization and learn from them and understand them."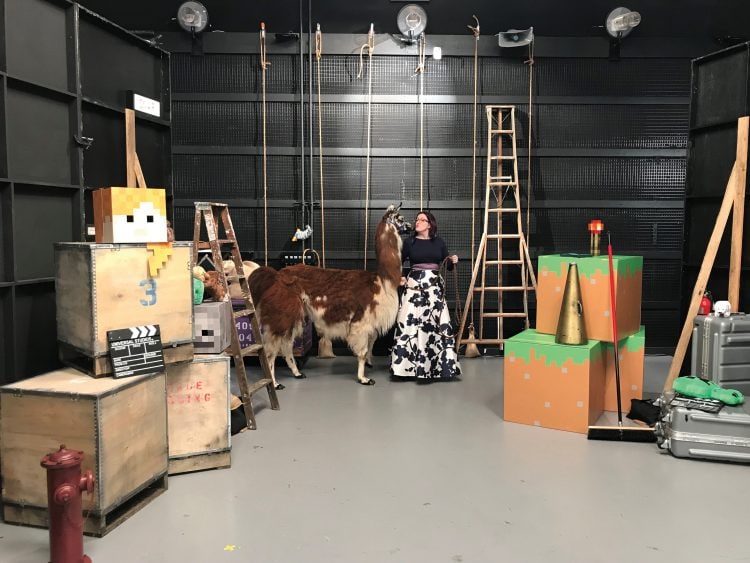 Norris pets a llama that was used during a video shoot for the intro sequence to MINECON Earth.
One of Norris's favorite projects was the Minecraft Marketplace that launched last year. The new feature allows players and community members to build their own adventure maps, character skins, and textures for the game and sell them directly through the Minecraft store. Norris said the marketplace has been extremely popular and—like the game itself—has helped bring people together from around the world.
"We know that we work on a cultural phenomenon that touches hundreds of millions of people of all ages all around the world," Norris said.
"It's an enormous responsibility because so many young people and kids look up to you as the people who make one of the things they love the most. It brings so much happiness to so many people and changes so many people's lives, so it's important that we get it right. There's nothing else in the world I would want to do."
Tags:
alumnae, alumnae accomplishments, alumni, Aubrey Husted Norris '05, communication studies, computer science, global studies, International Relations, Vita 2018 April, Vita Vol. 1 No. 3