December 8, 2017
Randolph Launches New M.F.A. in Creative Writing
Acclaimed and award-winning writers will serve as first faculty for new program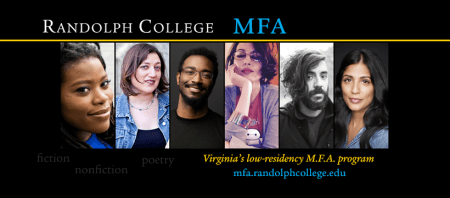 A new graduate program at Randolph will bring some of the hottest writers to campus beginning this summer. Starting in July 2018, Randolph will add a two-year, low-residency Master of Fine Arts in creative writing program, which is the first of its kind in Virginia.
Randolph's M.F.A. program will provide an immersive, personalized experience for students of all ages and backgrounds. The first semester will begin with a 10-day residency on the Randolph College campus, where students will participate in intensive discussions, lectures, workshops, readings, and panels focused on creative writing.
Following the residency, each student will work for 20 weeks to complete original new writing, revise works in progress, and write critical analysis essays. Throughout the process, students will work closely with the program's distinguished faculty. The program's first core faculty members include a diverse, award-winning group: Kaveh Akbar, Kaitlyn Greenidge, Mira Jacob, Aviya Kushner, Layli Long Soldier, and Phillip B. Williams. Three specialize in poetry and three in fiction/nonfiction writing.
"We wanted a highly accomplished group of faculty who represent diverse kinds of writing and backgrounds and who are writing work that right now is shaping literature and culture," said Gary Dop, an English professor and director of the program. "These are people who are regularly in the New York Times, The New Yorker, Slate magazine, and major literary journals like Poetry and the Georgia Review. They're really amazing and exceptional faculty."
Akbar is the recipient of a Ruth Lilly and Dorothy Sargent Rosenberg Fellowship from the Poetry Foundation, a Pushcart Prize, and the Lucille Medwick Memorial Award from the Poetry Society of America. He is the author of the chapbook, Portrait of the Alcoholic, and his latest poetry collection, Calling a Wolf a Wolf, was released in September.
"It feels like such a privilege to be in on the ground floor of this program, to be working with this super-team of writers and poets to build a new kind of M.F.A.," Akbar said. "I can't wait to get to work with my colleagues, with my students—I think we really have the opportunity to build something special."
Find out more at mfa.randolphcollege.edu
Tags:
creative writing, English, faculty, Gary Dop, Kaveh Akbar, magazine, masters degrees, MFA, poetry, Vita Vol. 1 No. 2, writing