October 23, 2017
Randolph to present Shakespearean tragedy on Halloween weekend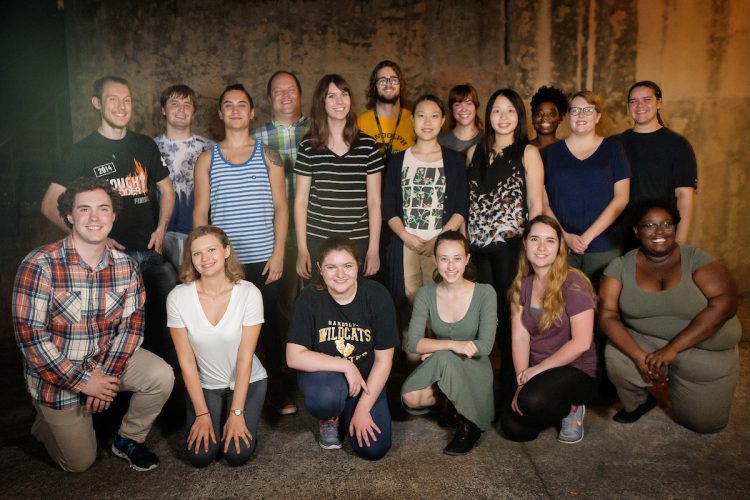 Cast of Macbeth
This Halloween weekend, witchcraft, dark prophecies, and post-apocalyptic imagery will run rampant in Thoresen Theatre. Randolph College's production of Macbeth opens Thursday, October 26, at 7:30 p.m.
Directed by theatre professor Stephanie Earl, this supernatural thriller by William Shakespeare dives into the psyches of the power-hungry Macbeth and Lady Macbeth. The plot follows Macbeth, a nobleman who is visited by three witches who prophesize that he will become king. Their prediction comes true after Macbeth murders King Duncan; however, his newfound power comes at a great cost, and chaos ensues.
"Doing this on Halloween weekend was intentional, and it's inspired a lot of the design concepts," Earl said. "We're doing sort of a modern, post-apocalyptic look for the set and costumes, and I think it adds sort of an edgy quality to the show."
In the spirit of Halloween, Earl said audiences can expect the three witches to play a more significant role in Randolph's production than in the original play. They might even be lurking in the background of some scenes in which they have no lines. Earl has also enjoyed helping to choreograph the multiple action and fighting scenes that will take place.
"I really am excited for the Macbeth and Macduff fight," Earl said. "Whenever anybody sees it for the first time, there's a lot of gasping and freaking out. It's one of my favorite fights we've ever done."
Eric Huber '18, a veteran of the Randolph stage who plays Macduff, enjoyed refining his stage combat skills for the production.
"This has been a really amazing opportunity for me to improve as an actor, but of course I'm thrilled to have a spectacular fight scene against Macbeth," Huber said. "I knew that fight scene would have to be something special before we got to setting it, but it has certainly exceeded my expectations for intensity and spectacle. We've spent hours on just that fight scene."
Fellow senior Travis Byram '18 also embraced the opportunity to star in another theatre production at Randolph. In Macbeth, he plays the roles of Banquo, Porter, and Old Siward.
"I had such a great time in Twelfth Night, which was two years ago now, that I knew I couldn't pass up the opportunity to get to work on another Shakespeare play before I graduated," Byram said. "I've loved watching the first-year actors get to handle being in a Randolph play for the first time and getting to work with friends that I've met along the way."
One of those collaborators is Liz Beamon '20, who plays Lady Macbeth. Beamon joined the theatre department as a first-year, and was eager to return to the stage and continue growing as an actor.
"I have really enjoyed working with everyone in the cast and crew," Beamon said. "They're all so focused and dedicated that they truly make the process of putting on a show—which is often long and arduous—an adventure. My favorite thing about playing Lady Macbeth is that she's such an iconic character. Everyone has in their head an idea of who she is and what her motives are, so it's really exciting to make my own additions to a character like that."
Macbeth opens Thursday, Oct. 26 at 7:30 p.m. Shows are scheduled at the same time Oct. 27 and 29, and at 2 p.m. on Oct. 28. Tickets may be purchased at https://www.brownpapertickets.com/event/3103220 or by calling the box office at 434-947-8562.
Tags:
Eric Huber, events, Liz Beamon, Stephanie Earl, theatre, Travis Byram