November 15, 2016
Randolph to participate in global day of giving Nov. 29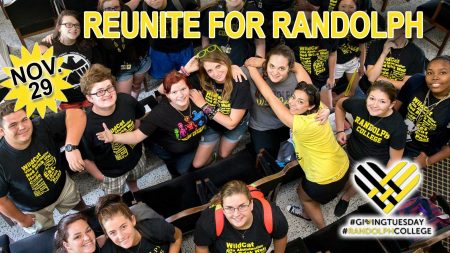 On November 29, Randolph College will once again join #GivingTuesday, a global day of giving that harnesses the collective power of individuals, communities, and organizations to encourage philanthropy and to celebrate generosity worldwide.
#GivingTuesday is held annually on the Tuesday after Thanksgiving and the widely recognized shopping events of Black Friday and Cyber Monday. #GivingTuesday was created to kick off the holiday giving season and inspire people to collaborate in improving their local communities and giving back in impactful ways to the charities and causes they support.
"This is the second year Randolph College is participating in this global day of giving," said Jennifer Williams, Annual Fund gift officer. "Last year alums, faculty, staff, students, and friends of the College raised almost $90,000 during the College's first-ever giving day. This year we encourage everyone to share the #ReuniteRandolph and #GivingTuesday message socially and encourage the spirit of giving during this holiday season in support of the College."
All gifts given to the College on November 29 will count toward #GivingTuesday participation. Gifts to the Annual Fund provide unrestricted revenue to support all areas of the College, such as student scholarships, internships, study abroad programs, academic resources and technology, and enrollment initiatives.
Those who are interested in joining Randolph College's #GivingTuesday initiative can visit http://www.reuniterandolph.org/.
Tags:
#GivingTuesday, alumnae giving, alumni giving, annual fund, giving