September 1, 2016
Virginia Symphony Orchestra violinist to perform at Randolph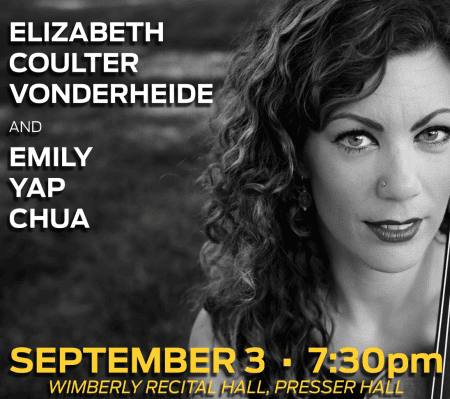 Randolph will host its first Guest Artist/Faculty Recital of the fall semester this Saturday, September 3, featuring violinist Elizabeth Coulter Vonderheide.
The performance, which is free and open to the public, begins at 7:30 p.m. in Wimberly Recital Hall, and will include works by Copeland, Mendelssohn, and Prokofiev. Randolph music professor Emily Yap Chua will accompany Vonderheide on the piano.
A Lynchburg native, Vonderheide began playing violin at age 5 and is assistant principal second violin with the Virginia Symphony. She earned her bachelor of music degree from the Indiana University Jacobs School of Music, where she also held contracts with the Camerata Orchestra, the Owensboro Symphony in Kentucky, and the Columbus Indiana Philharmonic. She earned her master of music degree in the prestigious Orchestral Performance Program at the Manhattan School of Music.
Vonderheide has been a member of various ensembles, including the National Symphony of the Dominican Republic, the orchestras of the Spoleto (Italy) Festival, and the American Institute of Musical Study (Graz, Austria). She has also soloed with the Virginia Symphony, the Lynchburg Symphony, and the National Repertory Orchestra. She is the daughter of Bill Coulter, the Katherine Haas Eichelbaum Professor of English at Randolph College, and lives in Portsmouth, Va.
For more information about the artist and about the Virginia Symphony Orchestra, visit http://www.virginiasymphony.org/orchestra.php?id=10.
Tags:
Emily Yap Chua, guest recital, music, music department