August 31, 2016
Randolph president emphasizes value of free speech in Convocation remarks
Read Dr. Bradley W. Bateman's Convocation Address (PDF)
The Randolph College community celebrated the official opening of the 2016-17 academic year with Convocation on Tuesday.
The ceremony began with the procession of faculty and seniors into Smith Hall Theatre. Seniors wore traditional funny hats and graduation robes decorated with buttons as they exchanged cheers and songs with the sophomores.
During the event, Carl Girelli, vice president for academic affairs and dean of the College, presented several awards to students and faculty.
Tetiana Poliakova '18 earned the Phi Beta Kappa Book Award, which is given annually to the junior who has attained the highest grade point average in their class.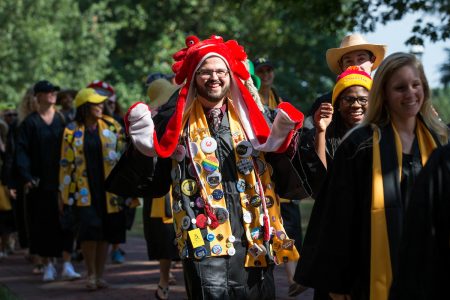 Physics professor Katrin Schenk was awarded the Kathryn Graves Davidson Scholarship Award, which recognizes the importance of faculty research, scholarship, and achievement.
Chemistry professor Ann Fabirkiewicz received the Kathryn Graves Davidson Service Award, which recognizes a member of the full-time faculty who has been outstanding in bringing distinction to the College.
Sociology professor Danielle Currier was presented the Gillie A. Larew Distinguished Teaching Award.
Eva Heitbrink '17, president of Student Government, welcomed the audience and spoke about one of the most impactful moments in her Randolph College career: her participation in a campus Black Lives Matter protest. Heitbrink admitted that prior to that day her sophomore year, she had never protested before—partly because she didn't feel it would make a difference, but also because there was never an issue she felt strongly enough about to speak up. Growing up in the Netherlands, she said there was a narrative that her country had outgrown issues of race.
"The protest was something I had never experienced before, and I know it was something I would never have experienced if it was not for Randolph," Heitbrink said. "It was here that I felt safe and accepted enough to have my views challenged. This institution helped me open my eyes to what was happening in the world."
Heitbrink said her participation in the protest showed her that she could make a difference and encouraged her to continue standing up against injustice after she graduates.
"Sometimes I wonder who I would have been without this experience," she said. "It only makes me realize more that Randolph can be a place of growth. No one comes here as a finished product. All of us are here to learn, to experience, and to grow. You will encounter things that you have not encountered before. You will meet people that are not like you. These things will help to shape the person you are to become. Don't be afraid of change. Be open to it."
Heitbrink closed her speech by reciting a quote by Martin Luther King, Jr.: "Make a career of humanity; commit yourself to the noble struggle for equal rights. You will make a greater person of yourself, a greater nation of your country, and a finer world to live in."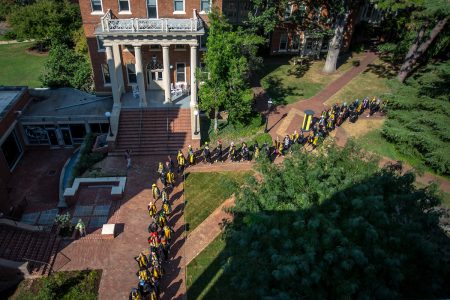 President Bradley W. Bateman continued the theme of taking stands for social justice as well as the importance of free speech. He shared stories from the 1960s—a pivotal decade during the College's history in which students protested for civil rights and black students integrated into the campus community.
He focused particularly on the exploits of Rebecca Owen '61 and Mary Edith Bentley '61, who participated in Lynchburg's first civil rights sit-in in 1961. The two students were arrested and went to jail for their "scandalous" actions.
"Their sense of decency and fairness was exemplary," Bateman said. "I join the generations of people who have celebrated Rebecca and Mary Edith as among our greatest alumnae."
Bateman pointed out that while at the time many at the College supported equal rights, not everyone viewed their actions favorably. The two students were even required to go before the Judicial Committee for misconduct, and came close to being expelled.
"In retrospect, we see that Rebecca and Mary Edith were ahead of the curve," Bateman said. "But at the time, being ahead of the curve was not necessarily seen as a good thing, even by many of the people who agreed with them that segregation was wrong."
A few years later, then-President William F. Quillian, Jr. took his own stand by overseeing the integration of the College's first black students. Janie Hubbard '71 came to the College in 1964 and was the first black student to enroll in regular session, but did not live on campus. The first residential students, Ann Richards '69 and Lois Suffolk '69, arrived in 1965. The change was a bridge too far for some members of the College community, causing trustees to resign, students to leave the school, and donors to stop giving to the College.
Bateman said there is much to learn from the bravery of Quillian and those alumnae.
"Perhaps some will ask how anyone could have questioned that Rebecca and Mary Edith were doing the right thing," Bateman said. "A more honest person will perhaps ask whether they could have had the courage in 1960 to support them in their act of civil disobedience and their willingness to go to jail for their beliefs. The dominant ethos in the South at that time was so strongly in favor of segregation that it clearly took an exceptional person to take a public stand as they did."
Bateman concluded his remarks by asking students to think about the importance of free speech in bringing about meaningful social change in today's society. He also urged them to be open to and accepting of others' views.
"To realize the benefits of this College community, we must be willing to engage with people who are different than we are in any number of fundamental ways," he said. "If differences of opinion are understood as a legitimate part of our learning, then free speech is indispensable for what we do at Randolph."
"Civility and respect are central to who we are and to the successful life of this College," Bateman added. "It is never right to demean someone for their sexual orientation, their race, their gender, their nationality, or even their religious beliefs. Never. Respecting people in this way is not political correctness. It's civility."
Tags:
Bradley W. Bateman, ceremony, convocation, Eva Heitbrink '17, faculty achievements, faculty awards, President's Office, student accomplishments