August 24, 2016
Randolph College welcomes the Class of 2020 to campus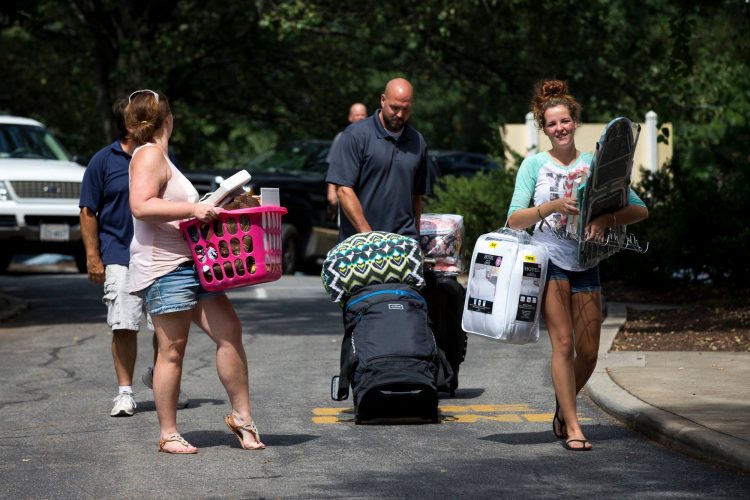 Randolph College welcomed 231 new students to campus Wednesday. The College's annual move-in day featured a large contingency of faculty, staff, and student volunteers who spent the day helping new students haul suitcases, boxes, and other belongings into the residence halls.
"This is a wonderful time for the College, and we are pleased to welcome the Class of 2020 to our campus," said Bradley W. Bateman, president. "About 123 years ago, our founder William Waugh Smith met this College's first students as they arrived to a campus with one partly finished building. While much has changed at the College since then, the same focus on the individual and on providing the very best liberal arts education remains."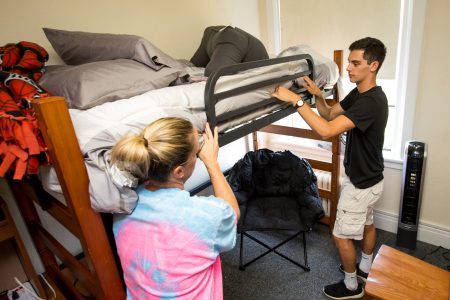 The new students represent a slight increase in enrollment over last year, when the College welcomed 225 new students. Randolph expects its total enrollment to remain steady at approximately 700 students.
"Randolph is a true, close-knit family, and we are always excited to meet our new students and their families on move-in day," Bateman said. "This new class is filled with diverse, talented, academically strong students who will fit in well here."
The new students include nearly 40 transfer students, the highest number enrolled by the College in the 21st century.
"We are seeing an increase of students taking advantage of several programs that make college more affordable, such as the partnership we have with the Virginia Community College System," Bateman said. "In addition, LEAP, our special financial aid program for Region 2000 students, has made it extremely affordable for our local students to attend Randolph."
Randolph will continue the celebration of the 125th anniversary of its founding during the fall of the 2016-17 academic year. Several special events are planned, including a convocation and birthday party during Homecoming weekend (Oct. 8).
Returning students will discover several changes at the College when they return this weekend. Over the summer, Randolph completed the third phase of the renovation of Cheatham Dining Hall. The latest phase features improvements to the kitchen and other back areas of the dining hall, as well as a new entrance and water fountain. In addition, the College finished a major electrical infrastructure improvement project and began the process of replacing boilers.
Randolph will also continue offering its special financial aid program for students from the surrounding area (Lynchburg City and the counties of Amherst, Appomattox, Bedford, Campbell, and Nelson) for the upcoming academic year. The Local Area Educational Program (LEAP) guarantees that students from the area will pay no more than $10,000 in tuition each year. Thanks to the program, the average amount due after financial aid for LEAP students living at home (FAFSA filers) is $1,645. The average amount due after financial aid for tuition, room, and board for LEAP students (FAFSA filers) is $14,225.
For more information, please see www.randolphcollege.edu/LEAP.
Randolph will also continue to offer its free science and art sessions for high school students on weekends this fall. Science + Art Saturdays offer a variety of hands-on activities. For more information or to register, please go to http://web.randolphcollege.edu/sciencesaturdays/.
Classes for the 2016-17 academic year begin Aug. 29. On Aug. 30, Randolph will officially open the academic year with its annual convocation ceremony.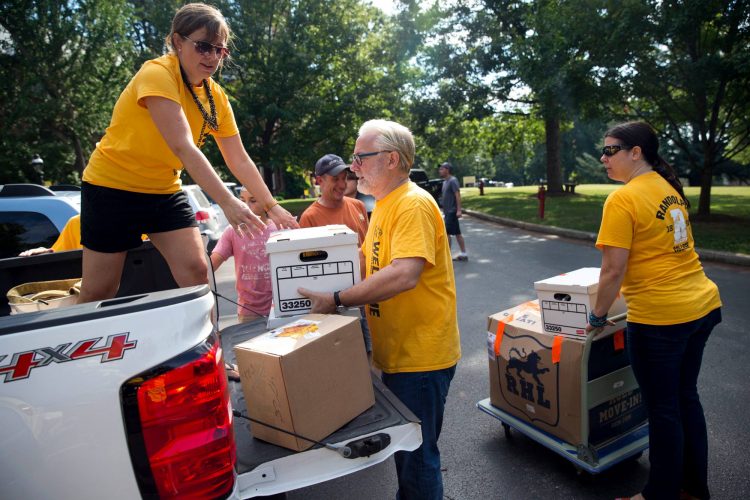 Tags:
125th anniversary, Class of 2020, First-year, LEAP Program, move-in day, new students, transfer students