July 5, 2016
Randolph receives $7.82 million gift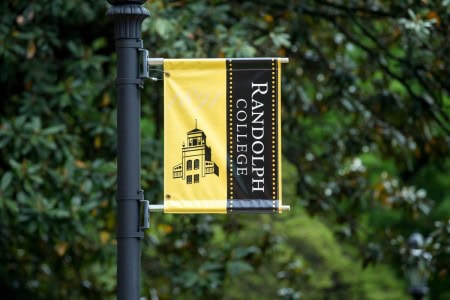 Randolph College recently received a $7.82 million gift—the second largest individual gift in the College's history.
The gift, which will provide scholarships for students, was a bequest from Laura Maud Battle Winstead '50 and her husband, Emerson Clarence.
"This transformative gift is a wonderful testament to the commitment of a very special couple to this College," said Bradley W. Bateman, president of Randolph College. "Their generosity and forward thinking will make a tremendous difference to our students and institution, and we are grateful for their support of Randolph College.
"Randolph is fortunate to have so many devoted and committed graduates," he added. "When William Waugh Smith founded this College 125 years ago, his main priority was to provide an excellent liberal arts education to students. That priority has not changed. Randolph is grateful to Laura and Emerson Winstead for including Randolph in their estate plans. This amazing couple's gift will make a Randolph education even more affordable with scholarships for students."
Laura Winstead, originally from Rocky Mount, North Carolina, was born in 1928. She graduated from the College with a French major and English minor. During college, she participated in the Greek Play and was involved in the riding program. She was also a member of Order of Greyfel, a society of the outstanding horsewomen on campus.
Laura later earned her master's degree from the University of North Carolina at Chapel Hill and was a doctoral student at the Sorbonne, University of Paris, for two years. Emerson Winstead was originally from Wilson, North Carolina, where Laura taught at Atlantic Christian (Barton) College and Greenfield School. She was extremely active in her church, teaching Sunday school and serving in the choir, the Hispanic Ministry, the St. Francis Guild, and the Community Soup Kitchen.
She also had special concern for the work of the Mental Health Association and the Alliance for the Mentally Ill. Laura died on August 11, 2006.
Laura's aunt, Mamie Battle, was a member of the R-MWC Class of 1918.
Born in 1928, Emerson Winstead was a graduate of The University of the South, Sewanee, Tennessee. He was a member of Kappa Sigma Fraternity and studied in a graduate program at Johns Hopkins University. A World War II army veteran, Emerson served in England, France, and Germany during his tenure. He also worked as administrative assistant to the superintendent of Charleston, South Carolina County Schools before returning to Wilson, North Carolina to head the purchasing department of Eastern North Carolina Sanatorium for 20 years. He later transferred to the Eastern North Carolina School for the Deaf to serve as an administrative officer for grants and programs.
Emerson was a member of St. Timothy's Episcopal Church where he served as lay reader, lay communicant, and member of the Vestry. He was active in the NC Alliance for the Mentally Ill and was an honorary member of the Poetry Society of South Carolina.
He and Laura have two sons, Emerson Kemp Winstead and Thomas Terry Winstead.
Emerson died on January 13, 2012.
The Winsteads' gift will provide funding for scholarships to students, with a preference for students from North Carolina.
"Laura and Emerson Winstead took living an abundant life to heart," Bateman said. "They valued education and service and made a difference in their communities. Randolph shares these commitments, and all of us are appreciative of this couple's investment in Randolph College."
Tags:
alumnae, alumnae giving, alumnae support, Bradley W. Bateman, college scholarships, gift, giveroll, giving, Laura Maud Battle Winstead