June 17, 2016
For the health of horses
A group of Randolph College students are spending the summer comparing the effectiveness of over-the-counter medications in treating a skin infection commonly found in horses and livestock.
Jessica Sidebottom '17, Jacquelyn Parman '18, Di Bei '18, and Callan Frye '17 are participating in Randolph College's Summer Research program and are examining Streptothricosis, commonly known as "rain rot." The organism that causes rain rot appears and multiplies in warm, damp conditions where high temperature and high humidity are present.
The skin infection is typically treated with antibiotics; however, many owners administer over-the-counter medications or home remedies to their horses and livestock. Along with biology professors Amanda Rumore and Adam Houlihan, the students are conducting lab work to compare the effectiveness of some of the most popular over-the-counter medications used to inhibit the growth of the infection.
The group has also partnered with Brook Hill Farm, a non-profit horse rescue and therapeutic riding center in Forest, where they are applying the treatments to rescued horses suffering from rain rot. Students are treating each horse with a different over-the counter-medication, and as part of a blind study, one of the farm's veterinarians is examining each horse before and after treatment to determine which works best.
"What we did is we took two projects and combined them together, which has been really helpful to make the 'in vitro' and 'in vivo' components more attainable," Rumore said. "Sometimes when you've got big projects like this it can get overwhelming for one or two students. They're a fun group and working really well together, and it's making the project go forward on pace."
Bei and Sidebottom have enjoyed the hands-on veterinary experience and lab work, and both plan to attend medical school upon graduation from Randolph. "This is going to be really helpful for the horses and for future research," Bei said.
"Doing this project has been really helpful for getting experience in the lab and everything I'll need to be able to do later on," Sidebottom added. "I really like growing bacteria and getting to look at all of them to see what kinds of things can grow from them."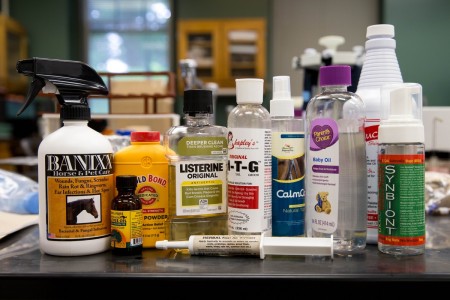 Parman is participating in the project for both experience in medical research and as part of a Virginia Foundation for Independent Colleges (VFIC) and Carilion Summer Undergraduate Research Fellowship. She will present the group's findings at Carilion Fellow Day at Carilion Clinic in Roanoke. After graduating from Randolph, she plans to earn an MD-Ph.D.
"I like this project because I haven't taken a microbiology class yet, but I'm learning a lot of techniques, especially with growing bacteria on plates, which is going to be helpful in my future," Parman said. "We're also hoping to be published in the Journal of Equine and Veterinary Science, and that would certainly help with getting into med school."
Frye is also completing the project as part of a prestigious VFIC fellowship. He is a recipient of the VFIC's Summer Research Fellowship, and upon graduation from Randolph plans to earn a Ph.D. in biology lab research.
"This project is excellent because it combines lab work with field work, so we're directly applying microbiology and principles of that in the lab to treatment of real patients—in this case, the horses," Frye said. "If I could do something like this for the rest of my life I'd be happy."
Tags:
Adam Houlihan, Amanda Rumore, biology, Callan Frye, chemistry, Di Bei '18, equine studies, Fellowship, Jacquelyn Parman, Jessica Sidebottom, student research, summer research, Summer Research 2016