April 19, 2016
Randolph certified as Virginia's first Bee Campus USA affiliate
Bee Campus USA has announced that Randolph College is the ninth educational institution in the nation and the first in Virginia to be certified as an affiliate of the Bee Campus USA program, designed to marshal the strengths of educational campuses for the benefit of pollinators.
The Bee Campus USA designation recognizes educational campuses that commit to a set of practices that support pollinators, including bees, butterflies, birds, and bats, among thousands of other species. Sophia Dill '18 worked with several professors and members of Randolph's Environmental Club to complete the College's application. In addition, Randolph's Sustainability Council established a subcommittee to oversee and assist with the application process.
Dill will present more of her research about bees and what the designation means for Randolph at the Symposium of Artists and Scholars this Thursday at 4:30 p.m. in the Quillian Conference Room.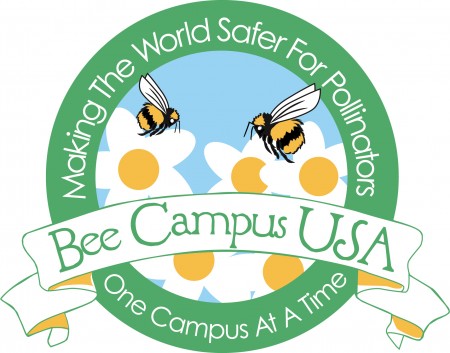 "Bee campus USA is focused on native pollinators, especially bees, which depend on pollen for protein," Dill said. "Randolph's flowering trees and bushes provide food and shelter for bees, and the botanical garden is home to native perennials, which are even better."
Karin Warren, the Herzog Family Chair of Environmental Studies, was one of the faculty members who helped Dill complete the College's application. Warren said the designation is an acknowledgement to Randolph's commitment to sustainability efforts as a community. Part of that commitment involves promoting pollinator-friendly landscaping and practices and hosting events that increase awareness of the importance of pollinators and their conservation.
"As a Bee Campus, we are committing to promoting awareness and support of pollinators in our college community," Warren said. "We are excited that President Bateman is supporting Randolph's participation in the Bee Campus program, and look forward to great events and changes on campus to support the commitment."
"Randolph College is a stellar example of the influence educational institutions can have on their students and larger communities," said Bee Campus USA Director Phyllis Stiles. "Their talented faculty, staff, and students offer an invaluable resource for Central Virginia residents in seeking ways to manage ornamental landscapes in more wildlife-friendly ways."
For more information about Randolph College's Organic Garden and Dill's work with its buzzing inhabitants, please see http://magazine.randolphcollege.edu/2015/06/buzz-feed/. For more information about Bee Campus USA, visit beecampususa.org.
See media coverage about the designation at http://www.randolphcollege.edu/news/2016/04/randolphs-bee-campus-designation-receives-media-attention/ 
Tags:
Bee Campus USA, bees, community, environment, environmental studies, Karin Warren, national recognitions, organic garden, research, Sophia Dill, student research, sustainability, Symposium of Artists and Scholars