March 24, 2016
Randolph to present Pearl S. Buck Award to Maxine Hong Kingston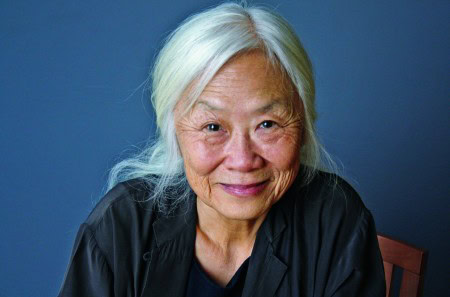 Nationally recognized author Maxine Hong Kingston will be named the sixth recipient of the Randolph College Pearl S. Buck Award on April 20 during a special ceremony at 7:30 p.m. in Smith Hall Theatre. The public event is part of the College's celebration of the 125th anniversary of its founding.
For more anniversary events visit the 125th Anniversary web site.
Kingston is a distinguished and celebrated Chinese-American writer who was most recently awarded the National Medal of Arts by President Barack Obama in 2014. She has also won the American Academy of Arts and Letters Award in Literature and received the National Humanities Medal in 1997 from then-President Bill Clinton.
Currently a senior lecturer emerita for creative writing at the University of California, Berkeley, Kingston is best known for The Woman Warrior: Memoirs of a Girlhood Among Ghosts, and its companion piece, China Men.  The Woman Warrior won the National Book Critics Circle Award in 1976 for nonfiction, and China Men was awarded the 1980 American Book Award.
"We are proud to bestow one of the College's highest honors on Maxine Hong Kingston," said Bradley W. Bateman, president of Randolph College. "Just as Pearl S. Buck brought awareness in America to the struggles and culture of the Chinese people through her writing, Maxine has used her literary talent to open the eyes of Americans to the hardships and difficulties faced by Chinese immigrants and their American-born children.
"Maxine is known as a pioneer," he added. "In the 1970s when she began writing the Woman Warrior, understanding and knowledge of Asian American culture was not widespread. Maxine helped introduce the world to the stories of these immigrants and their children, and through her writing helped shape a national conversation about culture, race, and gender."
The Pearl S. Buck award is given to women who exemplify the ideals, values, and commitments of Buck, a member of the Class of 1914 and the first American woman to receive the Nobel Prize for Literature. Buck is known for her humanitarian work and for being a champion of civil rights, women's rights, children's rights, and the rights of those with disabilities long before these issues were talked about in public. Her book, The Good Earth, for which she was awarded the Pulitzer Prize, offered a description of life in a Chinese Peasant village and included perspectives of women who lived and experienced everyday hardships. Her tireless efforts to increase understanding between Asia and America left a lasting imprint on the world.
Previous winners of the Pearl S. Buck award include Maya Lin (2004), an artist and designer responsible for the Vietnam Veterans Memorial, Mary Robinson (2003), the former president of Ireland, Jehan Sadat (2001), the former first lady of Egypt, Sheikh Hasina (2000), the former prime minister of Bangladesh, and Corazon Aquino (1998), the former president of the Philippines.
Kingston's work is directly influenced by her mother's childhood stories of China as well as her own experiences as a first-generation Chinese American. Kingston was born in California in 1940. Her mother emigrated from China to America the year before Kingston was born, and her father came to American 15 years prior. She was one of six American-born children. Despite her parents' culture, which believed women should not have careers outside the home, Kingston excelled in academics, earning scholarships that allowed her to attend the University of California at Berkeley. She married Earll Kingston, an actor, the year she graduated in 1962. She returned to Berkeley two years later to earn her teaching certificate.
Kingston taught English and mathematics before moving to Hawaii (where her great-grandfathers had worked when they immigrated to America) with her husband and son. In China Men, Kingston described the experiences of her forefathers working on the rough plantations of Hawaii.
Kingston taught at the University of Hawaii until 1976. Later, she continued teaching at the University of California, Berkley while intermittently writing full-time. Later publications included Hawaii One Summer, Tripmaster Monkey: His Fake Book, To be the Poet, The Fifth Book of Peace, and I Love a Broad Margin to my Life. She is a frequent commentator and guest speaker nationwide.
Tags:
events, humanities, literature, Maxine Hong Kingston, Pearl S. Buck Award