December 10, 2015
Kids in College program creates picture of success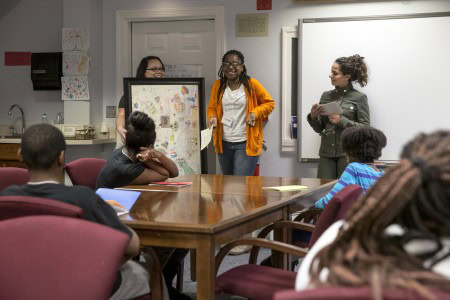 As she finished sketching a giant eyeball on the side of the green fish, Lily burst into laughter. Other Paul Laurence Dunbar Middle School classmates around the table joined in when Anthony Hardy '18 suggested she name her creation "Illuminati Mona Lisa" or "Illumilisa."
The drawing was included on one of two posters that the 6th graders in Lynchburg City Schools' 21st Century Grant after school program decorated as a final legacy project for the fall semester Kids in College (KIC) program at Randolph. On Tuesday and Thursday, the middle school students presented the posters to their families and teachers during a special program to close out the semester. One will stay on campus and grace the walls of Thoresen 300, and the other will go to the middle school with the students.
Most of the drawings were inspired by the activities in which the students participated with Randolph student mentors who were part of education professor Cheryl Lindeman's leadership class. The Randolph students developed a syllabus and lesson plans for each session with the middle schoolers, with a primary focus on science, technology, engineering, and math (STEM).
During a session last week, Ty Mosely '18 led an activity involving basic algebra. For the game, he balanced blocks on a scale to demonstrate the various values of X.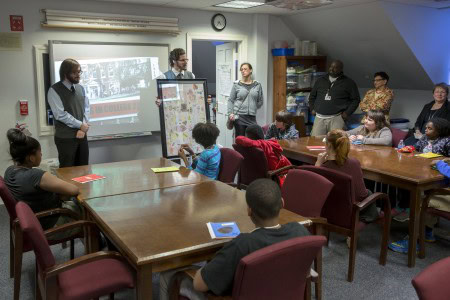 "It's a good experience for me because I really want to be a teacher, but had never explored teaching math or science," he said. "This helps me, and it helps them. I remember when I started learning algebra it was miserable, but these games make it more fun and help them understand the concepts."
Education professor Consuella Woods started KIC eight years ago as a volunteer opportunity for Randolph students to serve as mentors and tutors for middle school students struggling with math on Standards of Learning (SOL) tests. In the program's second year, Woods added the leadership component.
Now a diverse group of Randolph students take the class each semester. Some are aspiring teachers wanting additional classroom experience, while others like Tyler Davis '18 just want to make a difference.
"I mostly enjoy being able to make an impact on these kids' lives and seeing their smiles every day," he said. "Sometimes they don't want our help and we have to get to know them personally before they'll let us help them, but I really like getting to know them so that they'll open up and let me help them."
After the final presentation Tuesday, Duane Thomas, Paul Laurence Dunbar Middle School grant coordinator, praised Woods, Lindeman, and the Randolph students for their work.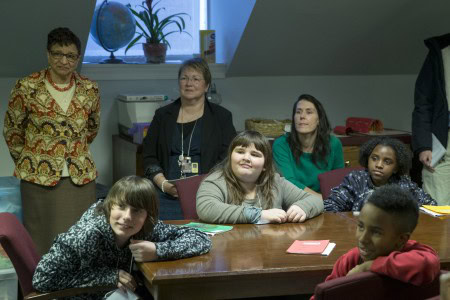 "This is my third year working with Randolph College in this capacity, and I must say that this group of students has been exceptional," Thomas said. "The heart you've shown working with these kids, the relationships and the time you've taken to establish those relationships and reach them—I'm excited to know that you're tomorrow's leaders."
Tags:
Cheryl Lindeman, community, Consuella Woods, education, Kids in College