October 19, 2015
Sierra magazine names Randolph a 'Cool School' for 2015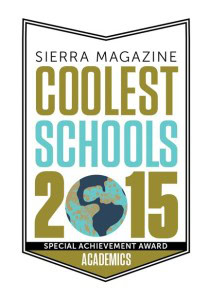 Randolph is one of 153 higher education institutions across the nation to be named a "2015 Cool School" by the Sierra Club. Only two Virginia schools earned the honor.
Published in the September/October Sierra magazine, the Sierra Club's Cool Schools ranking is open to all four-year, degree-granting undergraduate colleges and universities in the United States. Each year, school administrators participate by completing an extensive questionnaire about their campus sustainability practices. Once schools submit their data, researchers score each response and rank each of the participating institutions.
Randolph was ranked 127th, and Sierra's profile details the College's efforts to promote sustainability in its curriculum, student research opportunities, campus life, community outreach, and more.
"A fair portion of the points institutions can earn from Sierra Magazine's Cool Schools ranking are tied to state policies and incentives present in the energy, recycling, and water sectors," said Ludovic Lemaitre '11, Randolph's sustainability coordinator. "While Virginia offers some, many other states have been more aggressive.
"For Randolph to be ranked first out of the only two institutions from Virginia that made it to the list speaks highly of the breadth of efforts put in place by students, faculty, and staff at the College," Lemaitre added. "Everyone involved thought outside the box, and I think that prospective students will be pleased to discover the opportunities that can be offered to them at Randolph as a result of these efforts."
The Cool Schools ranking is an index that provides comparative information about the most important elements of campus sustainability. Sierra's researchers determine the numbers and order when they evaluate schools' survey responses via a scoring key developed to emphasize the Sierra Club's environmental priorities. Measurements of energy usage, greenhouse gas emissions, and other factors are taken from performance years of 2014 or earlier.
See the entire Cool Schools list at http://www.sierraclub.org/sierra/2015-5-september-october/cool-schools-2015/full-ranking
Tags:
Cool Schools, Ludovic Lemaitre, national recognitions, Sierra Club, sustainability