September 3, 2015
Registration open for free Science Saturdays program for high school students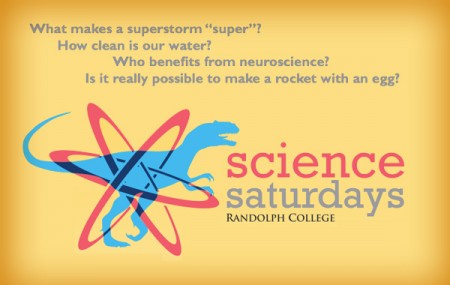 What's in sunscreen? What kinds of nutrients or pollutants are in the local water supply? What's it like to be a science teacher? During Randolph College's Science Saturdays, high school students will find out the answers to these everyday questions and more during free, hands-on lab activities and presentations.
Each session begins at 10 a.m. and is open to any high school student. Students who attend four or more sessions will be named Randolph College Science Scholars and receive special recognition during a spring reception.
First held in 2013, Randolph's Science Saturdays features a variety of science-related topics taught by several Randolph professors.
"By attending these sessions, high school students get to see the beauty and excitement of science first-hand," said Peter Sheldon, a physics professor who helped begin the program. "They get to experience real research and real science laboratories. They get to learn new things and see that science is something that they might want to study in college."
The first session of the fall series, "Here Comes the Sun: An Analysis of Sunscreens," will be held this Saturday, September 5. Students will examine the chemicals in sunscreen and how they work together to protect human skin. They will then use ultraviolet spectroscopy to compare those chemicals to determine which provide the best protection.
Other sessions this fall include "Why the Train Went Off the Tracks," which will examine the reasons for and implications of the April 2014 train derailment in Lynchburg, and "The Shocking Science of Lightning," during which students will learn about how thunderstorms develop and just how much power an individual lightning bolt possesses.
"All responsible citizens should be scientifically literate, and these sessions help to educate students in many aspects of science in a fascinating and engaging way," said Sheldon. "There is art and humanity in science, and these sessions are for all students of any interest. Our intention is to show how that interest may be connected to various areas of science."
For a full list of sessions or to register for sessions this fall, please visit http://web.randolphcollege.edu/sciencesaturdays/
Tags:
high school, peter sheldon, science, science saturdays