June 3, 2015
Randolph recognized with Bronze Award in 2015 CASE Circle of Excellence competition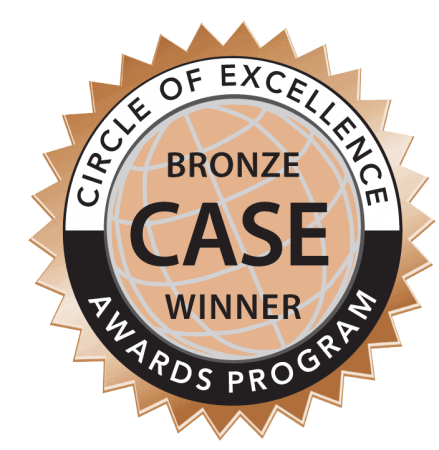 Randolph College has won yet another award for its newest admissions publication, The Official Guide to Randolph College. The Council for Advancement and Support of Education (CASE) announced the winners of its international Circle of Excellence Awards on Wednesday.
Randolph was awarded a Bronze Award in the Viewbook and Prospectuses (print) category. It was one of only three Virginia colleges recognized in the international competition.
"To be recognized with an international award is a high honor for Randolph College," said Wes Fugate, vice president and chief of staff. "The College Relations staff here is small, but extremely talented, and this award is a reflection of their hard work, creativity, and desire to share the College's story. For Randolph to have its work recognized while competing against much larger colleges and institutions makes this award even more meaningful and significant."
The international Circle of Excellence Awards Program recognizes outstanding work in advancement services, alumni relations, communications, fundraising and marketing as judged by peer professionals at schools, colleges and universities as well as by professionals from outside educators. This year, CASE received more than 3,200 entries for consideration in nearly 100 categories by more than 720 member higher education institutions, independent schools and nonprofits from around the world. The judges gave 307 awards, including 93 bronze; 106 silver, 91 gold and 17 grand gold.
In this competition, Randolph competed against colleges, universities, and independent schools of all sizes and from around the world. The Official Guide to Randolph College was created, written, designed, and produced by staff members in Randolph's Office of College Relations.
CASE Circle of Excellence judges praised Randolph's entry for its creative use of type, unusual mix of typefaces, and simple, cohesive design. "Every spread is a surprise," they wrote in the judges' report, adding, "The College's mission is to 'prepare students to engage the world critically and creatively, live and work honorably and experience life abundantly.' We felt the design reflected this. The viewbook feels creative and "abundant" yet maintains its clarity."
This is not the first award for Randolph College. In February, the College earned three awards in the CASE District III awards competition. The viewbook garnered high praise from judges and was awarded an Award of Excellence in three separate categories, including recruitment publication, publications writing, and editorial design.
To learn more about the 2015 CASE Circle of Excellence Awards, please see http://www.case.org/Award_Programs/Circle_of_Excellence/Previous_Winners/2015_Winners.html or
http://www.case.org/Award_Programs/Circle_of_Excellence/Previous_Winners/2015_Winners/Student_Recruitment_Publications_2015.html
Tags:
admission, awards, CASE award, Office of College Relations, publications, rankings, The Official Guide to Randolph College