May 1, 2015
National advocate for the liberal arts provides keynote for Randolph's Heick Symposium on College Admissions
Before launching into her keynote address, Georgia Nugent surveyed the room of high school guidance counselors and independent consultants to see who had attended a liberal arts school or completed a liberal arts major. The majority of those in the room raised their hands.
"This really is preaching to the choir," said Nugent, former president of Kenyon College and a senior fellow for the Council of Independent Colleges (CIC). She was on Randolph's campus to speak to participants in the 2015 Heick Symposium on College Admissions.
With the theme of "Affirming the Value of a Liberal Arts Education," Randolph brought counselors from all over the nation to campus to explore this important educational issue with one another, liberal arts educators, and national experts like Nugent.
"Randolph is engaged in the national discussion about the value of liberal arts education," said Mike Quinn, vice president for enrollment management. "The Heick Symposium is important because it provides the nation's leading independent college counselors with an opportunity to share their perspectives and experiences about why students choose liberal arts colleges."
The symposium, which began Thursday, April 30 and concludes Saturday, May 2, includes panel discussions, tours of campus, discussions with faculty members, and several tours of local attractions.
Nugent's keynote address on Friday focused on the CIC's efforts to share a broader message of the benefits of the liberal arts while dispelling myths often associated with this type of education. The CIC began a public campaign several years ago designed to speak about the value of the liberal arts in a way that would resonate with prospective students and parents.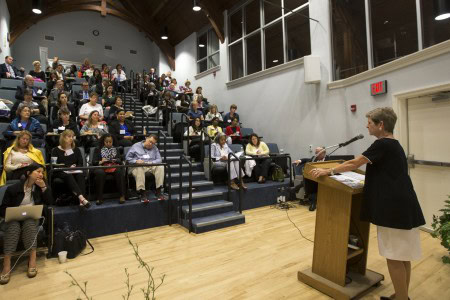 The group has focused on what studies have found to be the most compelling benefits of a liberal arts background: access, affordability, diversity, and success. The public relations campaign uses a student-centered approach and utilizes social media, including active Twitter, Facebook, and YouTube accounts in addition to a website dedicated to help others understand what the liberal arts is all about.
During her keynote, Nugent shared data and stories with the participants. She talked about the differences between liberal arts institutions and some much larger public institutions. Small class sizes, faculty attention, and an emphasis on the student help liberal arts colleges better prepare students, she said.
"Liberal arts colleges really do change lives," she said. "They are sort of miracle workers with the students who are not necessarily at the top of their class. You see it all the time at these colleges. You see this transformation. Maybe it was someone who was maybe shy or lacked confidence or wasn't sure of his or her abilities. You see this person transform and blossom over the course of four years."
Empirical data is starting to explain why, she added, mentioning recent Gallup polls and surveys that measured life satisfaction and happiness. "The single largest factor is engagement," Nugent said. "And that's what happens at small colleges: engagement with faculty members, with fellow students, with the subject matter at a deep level because you are being urged to challenge and question and go deeper. It should be no surprise that we succeed so well with our students."
Funding for conference fees and travel costs was provided by the Betty Jo Denton Heick '45 Annual Symposium Fund, which was created through a generous bequest from the estate of Betty Jo Denton Heick '45.
Tags:
Betty Jo Denton Heick '45, heick symposium, liberal arts