March 28, 2015
Professor reads from first book of poetry, Father, Child, Water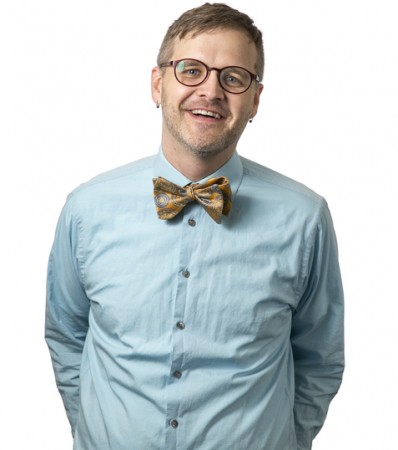 When Gary Dop finally saw the cover of his first book, Father, Child, Water, he felt an immediate sense of relief. Dop , a Randolph English professor, remembers standing frozen in his office, looked at the beautiful illustration that had just popped up on the screen. "I felt like it's finally complete," he said.
Father, Child, Water is a collection of poems that represents 10 years of work for Dop. It was recently published by Red Hen Press, an independent literary press with strong national recognition. As the title suggests, the book centers around the relationship between father and children, as well as the intensity of that relationship metaphorically evoked by the imagery of water. A book launch and reading is scheduled April 1 in Wimberly Recital Hall at 8 p.m.
The title, which is also the title for the first poem in the collection, came from an unforgettable moment in Dop's life when he and his then 1-year-old daughter were canoeing. She suddenly jumped into the water. Without thinking, Dop jumped right after her and that intense transient moment of trying to hold on to his daughter while being surrounded by water inspired him to write the poem. "Water becomes a kind of symbolic space for change and interaction," he said. Dop made it the title because he felt "Father, Child, Water" was one of the strongest poems in the book and projected overarching themes for the text.
"I hope a lot of the poems demonstrate my desire for people to connect, to feel whole," said Dop. He is also happy that the poems featured in Father, Child, Water strike some chord with a wide and diverse audience. "I'm really thrilled and proud of the fact that when people read it, it is not just for those who are always consumed with poetry, but it's really a book of poems for people who like people, communication, and language."
Nik Oliver '16, an English major, said the book was often funny, but also always serious. "Gary Dop has managed to more honestly capture the full range of human emotion in a debut than many poets do in a career," he said.
On a more personal note, Dop found connections to himself through the creative process of crafting the individual poems and putting together his book. "I think a poet's job is to be very honest," he said, "and I think it allows me to explore my sense of self and my sense of family."
A relentless writer, Dop is now working on several projects, including a play and the second book of poems, which will explore similar themes. "Because I am a father, I think about my kids all the time… as a father, it's a theme I cannot escape," he said.
Tags:
creative writing, English, Gary Dop, poetry