February 3, 2015
"We Heart Art" at the annual Love at the Maier
As Valentine's Day approaches, the Maier Museum of Art at Randolph College will hold the 12th annual Love at the Maier, a two-part event celebrating the connection between art and love.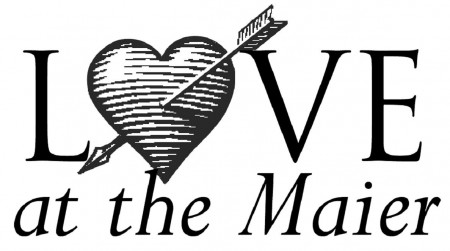 This year's event is titled "We Heart Art," and members of F.R.A.M.E, the College's student docent club, are eager to share with the community their favorite artists and artworks as well as how they fell so deeply in love with art.
"I feel that art has its place in our culture and in our education," said Megan Einhorn '15, president of F.R.A.M.E. "People can be introduced to new sights and ideas through art. We at Randolph almost take for granted how close we are to some of the biggest names in American art and Contemporary art. So, it is really important to remind everyone that art is everywhere and expose it to students, professors, kids, and adults."
The event begins on Friday, Feb. 6, at 5:30 p.m., when F.R.A.M.E. members will give presentations on an artist or art movement that they love.
For example, Einhorn will speak about German expressionism, a movement that began shortly before World War I and which she feels says a lot about the changes Europe experienced at that time. "The artists that witnessed life before World War I and (mostly) lived through it had so much change in their lifetime," Einhorn said. Art from that time period "has changed how we today look at art."
Callan Frye '17, a studio art major, is talking about minimalist and modern art. "I actually selected minimalism because it's very commonly disliked," said Frye. "The whole point of my presentation is to discuss why so many people dislike it, but then to come back and discuss why minimalism is important and why it really deserves to be loved."
Following Einhorn and Frye, Thea Ezinga '15 will give a presentation about the American artist and portrait painter John Singer Sargent and Sophia Dill '18 will speak about Edward Hopper, a prominent American realist painter and printmaker.
Admission for the Friday program is $5 for Maier members, $10 for non-members, and free for Randolph College students.
The second part of the program is a family-oriented event on Sunday, Feb. 8, from  2 to 4 p.m. Children ages 5 to 12, with an adult, are welcomed at the Maier to create a masterpiece for their valentines, with the help of Randolph art students and volunteers. The event costs $4 for Maier members and $5 for non-members. All materials will be provided.
Tags:
Love at the Maier, Maier Museum of Art at Randolph College