February 6, 2015
Randolph students to intern at National Gallery, London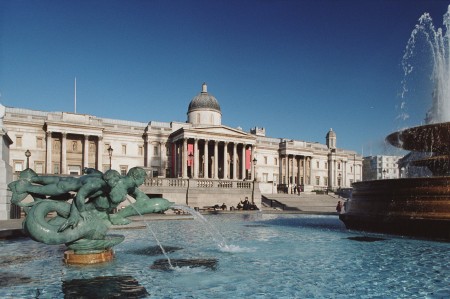 A prestigious British museum is offering two Randolph College students the opportunity to work alongside its professional staff this summer.
The College forged a partnership with the National Gallery, London, in 2014, and Nicholas Penny, the museum director, wanted the partnership to include work placement opportunities for Randolph students. Up to two positions will be available this summer for eight weeks. Applications are due February 13.
Randolph is the only educational institution in the United States with a partnership with the National Gallery. The chance of working with the Gallery's famous collection of art has resonated with Randolph students, according to art professor Andrea Campbell. "Students are very excited about this internship opportunity and have responded by seeking out experience in local museums and galleries to gain skills that would prepare them for working at the National Gallery,"she said.
Campbell has had several students meet with her to discuss how to strengthen their applications for the competitive positions. In class, art faculty have been working to provide students with information and experiences that also would be helpful to the students who are selected to work in the National Gallery.
The museum has offered to place the interns in a department that aligns well with their personal educational goals. Opportunities available to the interns include fundraising, events, publishing, education, curatorial work, and public relations.
"With over 600 people to care for one of the greatest painting collections in the world, the National Gallery has professional staff for every aspect of museum work," said Campbell. "Our student interns will learn about one kind of museum job, but in a context that will show them the gamut of possibilities.
"The opportunity to work in an environment where state-of-the-art training, equipment, and resources are brought to the interpretation and care of works of art will undoubtedly reveal to students careers that they were previously unaware of and will allow them to form a personal goal that is based on a model of excellence," she added.
Tags:
art, art history, giveroll, internships, museum studies, summer internships