February 12, 2015
Randolph professor explains 2011 earthquake's far-reaching impact
Sarah Sojka, a Randolph College professor of environmental studies and physics, recently appeared on local television to explain why an earthquake that shook Randolph's campus in 2011 may have been felt by more people than any other quake in the country's history.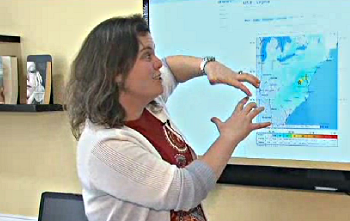 The earthquake occurred August 23, 2011, and was centered on Louisa County, about 100 miles from the College. Although the academic year was not in session at the time, a few students were on campus for the SUPER summer transition program.
U.S. Geological Survey scientists recently published a report saying that the 5.8 magnitude quake was felt by more people than any other earthquake. WSET asked Sojka to explain that report. In the interview, Sojka used equipment in the Center for Student Research to illustrate how population density and geological factors allowed more people to notice the quake.
Tags:
earthquakes, Environmental Studies, Physics