November 21, 2014
Creative writing and social activism meet in upcoming lecture
Corban Addison, the author of two internationally best-selling novels, bridges the gap between creative writing and social activism.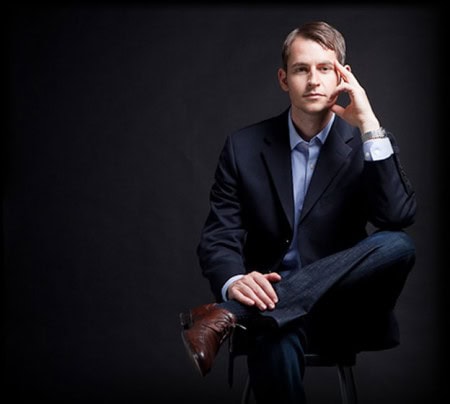 His first novel, A Walk Across the Sun, tells the interlocking journeys of two Indian girls forced into the sex slave trade and an American attorney who sets out to rescue them. This was followed by The Garden of Burning Sand, in which a human rights lawyer working in Zambia investigates a case of sexual assault against a girl with Down Syndrome.
Through his writings, Addison seeks to address some of today's most pressing human rights issues and move the readers to act in support of humanitarian causes. "His strength and talent as an author is writing novels on very difficult topics, such as sex trafficking or HIV/AIDS," said political science and global studies professor Jennifer Dugan. "He communicates the tragedies and complexities of these issues in an inspiring way, thus bringing them to life through the characters."
Addison will give a public lecture at Randolph College on Monday, Dec. 1, from 7 – 8 p.m in Nichols Theatre. As part of the talk, Addison will discuss poverty, intellectual disabilities, and sexual assault in Africa, the main topic of his second book. In addition, he will teach students about his creative process of writing stories to promote activism.
"My favorite talks are to college students," said Addison. "Although I write fiction, I'm an advocate at heart, and I love the chance to interact with and engage young people who will lead our world into the future. My hope is to stimulate creative thought about specific challenges facing our global society—in this case, the many dimensions of violence against women, including sexual assault and human trafficking—and to invite people to consider what it will take to confront these challenges."
After his lecture last year, some students were inspired to learn more about sex trafficking and actually incorporated the issue into some of their papers for global studies.
"Corban will appeal to creative writers who are interested in writing about these issues but aren't quite sure how to do the magic," said Dugan. "He will also be a great resource for political science/global studies students, helping them deconstruct the problem and find a solution to it." This year, with Addison discussing a wider range of topics, Dugan hopes the lecture will be attended by students across academic disciplines.
Tags:
activism, creative writing, global studies, political science, speakers