October 12, 2014
International curling competitor teaches economics at Randolph
Thanks to the evening news, Anne-Christine Barthel is a college professor.
Growing up in Germany, Barthel was fascinated by the discussions of economics she saw on the television news shows. Those discussions prompted her to take her first economics class because she saw economics as an attempt to understand everything in her world. "I'm still trying to understand everything around me," she said.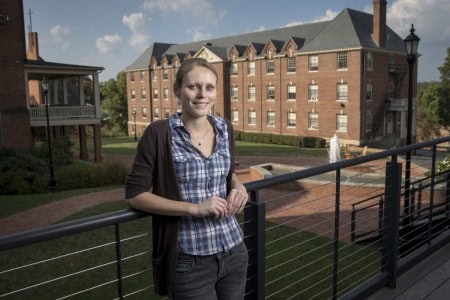 Barthel, who is a visiting professor of economics at Randolph College this year, graduated from the University of Mannheim, in her native country, before attending the University of Kansas, where she received her Ph.D. in economics in May.
Her specialty is microeconomics. She enjoys focusing on the minute systems that focus on individual choices and form the foundation of other forms of economics.
"Microeconomics starts at the very basic level where the individual is making decisions," she said. "Since we aren't that great at explaining why people make the economic decisions that they do, I think there's still a place in microeconomic theory to learn more."
In addition to her expertise in economics, Barthel has a talent for curling—the sport in which teams compete to slide stones across ice onto a target. Twenty years ago, a friend of Barthel's who wanted to learn curling formed a team so they could learn together.
Barthel and her teammates later represented Germany in three international competitions, including the 2011 World University Games in Erzurum, Turkey. "That was probably the coolest curling memory I had," said Barthel. "It looked like the Olympics. It felt like the Olympics."
One of the biggest changes she has experienced by coming to Randolph has been the class sizes, Barthel said. Classes at her German alma mater could sometimes top 500 students. At the University of Kansas, even some of the smallest classes she taught as a graduate assistant had as many people as Randolph's biggest classes.
The average class size at Randolph College is 12.
"It's awesome that all the classes are small. I like that as a professor, I get to know the students," Barthel said. "As the students, you have very accessible professors."
Tags:
faculty, visiting faculty