July 10, 2014
Biofilm research could shed light on erosion control
By studying 12 bubbling bins of water and sand in the basement of Martin Science Building, two Randolph students hope to shed light on ways to reduce coastal erosion.
Each bin contains various amounts of nutrients designed to help promote the growth of biofilm, microorganisms that stick together in the sand, as well as a tube that pumps oxygen into the water.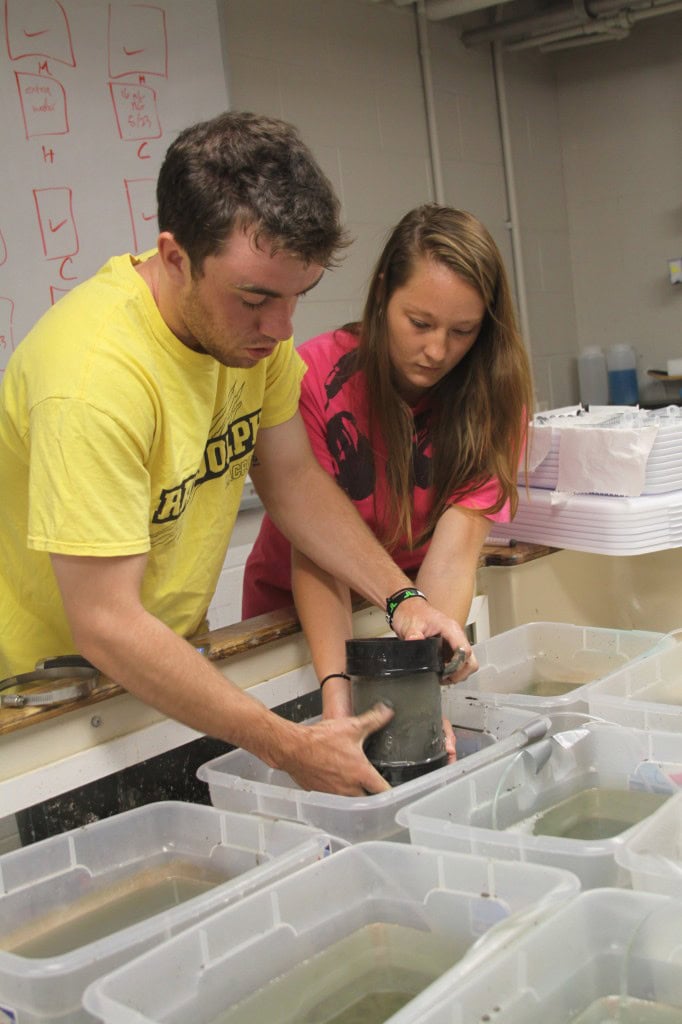 "We are studying the way nutrients affect biofilm growth, and how the biofilm growth affects the way sediments erode in coastal lagoons," says Bri Conrad '15. "It's important to understand that to do lagoon restoration projects and gauge water quality."
Conrad is working on a summer research project with Ryan Mahon '16 and Sarah Sojka, a Randolph environmental studies and physics professor. Their goal is to find a way to promote biofilm growth, and limit erosion, which would make it easier for organisms to survive off the coast of Virginia's Eastern Shore.
Reducing erosion could promote growth of a variety of organisms that are necessary for a healthy seawater ecosystem, Sojka said.
Sojka first worked on this research with Jessica McIntosh '16 in the spring. The initial experiment was inconclusive, so Sojka, McIntosh, and Conrad returned to the Eastern Shore in May to take more samples. The group then prepared the samples for tests.
For several weeks, the researchers regularly tested the water samples for acidity, dissolved oxygen, temperature, and biofilm growth.
At first, they worried that they would not be able to grow the biofilm. "The changes between the buckets with low nutrient levels and high nutrient levels wasn't high enough to be noticeable," Mahon said. So Sojka adjusted the lab's thermostat to see how a warmer environment might impact the growth. "When she increased the temperature, the next day, you could see more growth in each bucket, especially the high-nutrient buckets."
After allowing the biofilm to grow, they ran samples of the water through a Gust Erosion Microcosm, a system that mimics a wave and measures how much sediment is eroded.
Sojka pointed out that this project could have implications far beyond tests in a lab.
"In this research, you see a lot of ties between social structures, economics, and environmental issues," Sojka said.
For example, a disease and a hurricane killed much of the seagrass along the Eastern Shore, devastating the region's fisheries. Much of the research on promoting seagrass restoration has economic recovery in mind. "We see a larger implication of how something that's a lab science experiment really fits into a bigger picture," Sojka said.
Tags:
environmental science, Environmental Studies, erosion, research, summer research, summer research 2014, water quality