October 9, 2013
Men's soccer team breaks into national rankings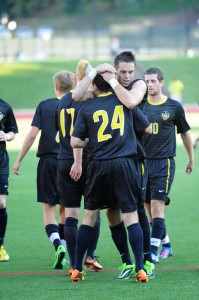 An impressive start to the 2013 soccer season has earned national recognition for  the Randolph College men's soccer team.
Two recent wins pushed the WildCats into the number 17 spot on the National Soccer Coaches Association of America Division III poll, besting the team's previous record of reaching number 18 on that list. .
The team also ranked as the final team on the D3soccer.com top 25, a list compiled from votes by a panel of coaches, sports information directors, and media members. This is the first time in the program's history that the team has been ranked in both polls at the same time.
Under the leadership of Head Coach Bryan Waggoner and a large contingent of seniors, the men's soccer team has amassed 9 wins, zero losses and one tie this season, their longest unbeaten streak. In 2011, they won the Old Dominion Athletic Conference Championship and rose to the Sweet Sixteen of the NCAA Division III playoffs.
Learn more about the team's accomplishments on the WildCat Athletics Men's  Soccer page.
Tags:
athletics, men's soccer, scholar athletes, soccer