September 13, 2013
Buddhist monks teach students about culture, patience, and sacred art
Will Andress '17 spent a lot of time in his second week of college talking with Tibetan monks and watching them work on art that is sacred to them.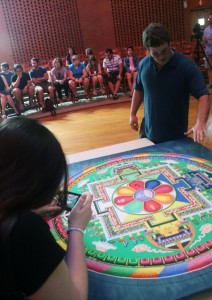 A group of Buddhist monks from Tashi Kyil Monastery spent the past five days at Randolph building a sand mandala—a colorful work of art made by placing thousands of grains of sand to depict symbols sacred in Tibetan Buddhism. They created an Avalokitesvara mandala representing the Bodhisattva of Compassion.
"I have always been interested in the Eastern religious traditions, and the monks were certainly knowledge about that," Andress said. "On a more general level, I wanted to spend time with them to see their perspective, which would be vastly different from my own."
Andress learned more about the monks' religious practices and their language. He also spent some time watching the men build the intricate mandala, which they made in nearly complete silence by leaning over a platform to drop a few grains of sand at a time. Seeing their patience caused Andress to ponder his attitude towards life. "Many times I become too wrapped up and worried about everyday life," he said. "I need to live in what is happening in the present."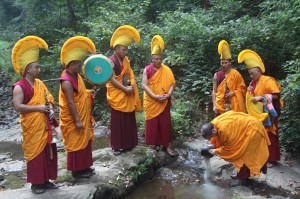 In addition to creating the mandala, the monks answered questions following a popular film about a monastery and performed a cultural presentation. On Wednesday, after they finished the mandala, they allowed members of the Randolph community and the general public to come get a closer look at the mandala. Then the monks completed their work with a ceremony that involved wiping the sand to destroy the mandala pattern and pouring the sand into a creek.
"I learned that for them, destroying the beautiful mandala that they had worked so hard to build over the last couple of days was not a difficult process for them because they understood that nothing is permanent, including the Mandala," Andress said.
Tags:
asian studies, comparative philosophy, mandala, medicine buddha mandala, monks, religious studies