May 8, 2013
Randolph's Wes Fugate named the winner of the 2013 CASE Alice L. Beeman Award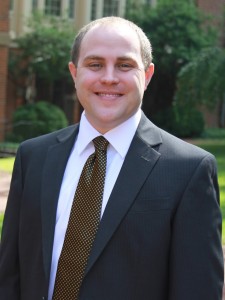 Randolph College's own Wes Fugate has earned national honors from the Council for Advancement and Support of Education (CASE).
CASE recently named Fugate the winner of the 2013 Alice L. Beeman Award for Outstanding Research in Communications and Marketing for Educational Advancement for his dissertation entitled, "Alike but Different: How Three Private Liberal Arts Colleges Communicate Prestige, Legitimacy, and Differentiation during the Student Recruitment Process."
Fugate serves as executive assistant to the president and secretary to the Board of Trustees.
The selection process for the CASE dissertation award is highly competitive. In fact, the organization only gives only one dissertation award per year.
The Beeman Award recognizes the work of scholars exploring advancement trends in communications and marketing in the areas of public relations, government relations, marketing, issues management, and institutional image enhancement. The dissertation must be helpful to educational advancement practitioners in devising strategies and tactics for accomplishing their work in communications and marketing.
Winners are announced each year in May. Each program carries cash awards and brings the award recipients international recognition.
Fugate earned his undergraduate degree from Centre College, his M.Ed. from Peabody College at Vanderbilt University, and his Ph.D. from the Institute of Higher Education at the University of Georgia.
Tags:
CASE award, Wes Fugate